Symington's is hoping to re-energise the world food category with the introduction of Twistd - a new range of ambient products.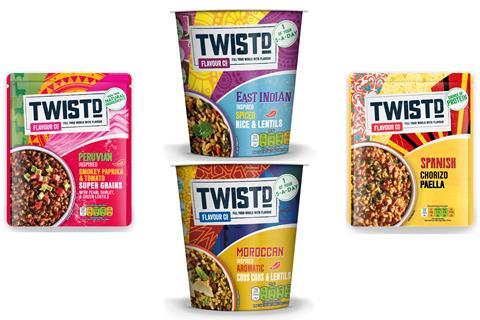 Tapping into consumer demand for flavour infusions and new tastes, the Twistd portfolio will be made available to convenience stores and wholesalers later this year and includes the following products, with pack weights from 70g to 250g:
Flavoured cous cous sachets (rrp 85p) - available in four flavours:
Mediterranean chargrilled vegetables
Sicilian lemon & sunflower seeds
Tuscan sundried tomato
East Indian spiced cous cous
Moroccan fruity cous cous
Super grain sachets (rrp 85p) - available in three flavours:
Mexican jalepeno couscous, bulgar wheat, rice & Lentils
Southern French garlic & red onion cous cous, bulgar wheat & lentils
East Indian spicy cous cous & lentils
Express grains & pulses pouches (rrp £1.99) - available in three flavours:
Tunisian chickpea, beans & bulgar wheat
Peruvian smoky grains, wild rice & bulgar wheat
Coastal greek grains haricot & bulgar wheat
Flavoured risotto (rrp £1.99) - available in four flavours:
Italian sundried tomato & mascarpone
Spanish red pepper & goats cheese
English real ale risotto & mushroom
Malaysian rendang risotto
Snack pots (rrp £1.29) - available in four flavours:
Thai aromatic green curry with rice & red lentil
Mexican chilli beans & rice
East Indian lentils & rice
Moroccan fruity cous cous
World flavoured rice (rrp 80p) - available in six flavours:
Jamaican rice & pea
Singapore aromatic spiced rice
Mexican smoky paprika & lime
Nigerian jollof
Thai coconut, chilli & lemongrass rice
Korean BBQ rice
Commenting on the range, Matt Lee, chief commercial officer at Symington's, said: We know from our shopper insight and from talking to our customers that both are craving more excitement and modernity from this category. Twistd provides exactly that."
Kevin Butterworth, marketing director at Symington's, added: "The new Twistd range will appeal to hectic young professionals, culinary explorers and health minded shoppers and will deliver a truly authentic taste sensation, transporting global flavours into your home.
"Twistd is based on in-depth consumer research and meets the demand for experimenting with different global flavours and the range provides a convenient and healthy way to add a dash of colour and culture to every eating occasion."
Twistd shippers will become available to Spar retailers from 12 August until 22 September. An ambient wet soup range is also set to join the Twistd portfolio in the near future.