Sunny D is moving into the carbonated fruit drinks market with the introduction of a carbonated version of its Florida juice drink.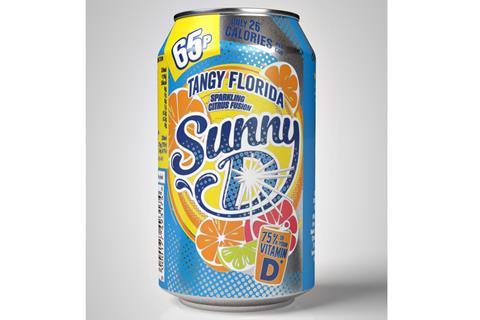 Available from early August and aimed at those looking for healthier 330ml carbonated beverages, the product is made with a blend of 13% juice, sparkling water and a high vitamin D content - 75% of your recommended daily intake.
The no added sugar drink also contains 26 calories per can. Packaged in 100% recyclable aluminium materials, the fizzy Sunny D Florida sku carries a pricemark of 65p.
James Logan, commercial director at brand owner Refresco UK said: "We're confident the new carbonated Sunny D Florida will prove popular with teenagers and adults. The carbonated fruit soft drinks category is in growth and the new Sunny D Florida is based on the flavour consumers already love with the health benefits more shoppers are seeking."
A nationwide sampling campaign starting on 26 August will support the product launch. More than 57,000 samples will be handed out in 17 cities exposing the brand to more than 700,000 consumers during the campaign.
All Sunny D products are available to independent retailers and wholesalers nationwide.