Soreen is launching a new malt loaf filled with cranberries, pumpkin seeds and sunflower seeds.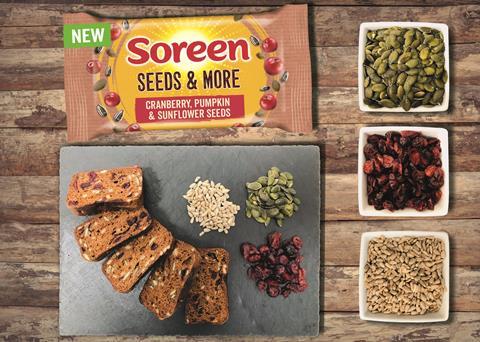 Designed to tap into demand for premium cakes, the Seeds & More product is a source of protein and fibre and is lower in saturated fat and sugar than standard cakes. The loaf also contains vitamin C, vitamin A, and vitamin K.
Mark Simester, md at Soreen, said: "Soreen has always been a firm family favourite and healthier offering in the UK, but especially since we've become a health-conscious nation. We're all trying to be healthier, but health means something different to us all. What we can agree on however is that we need to eat less sugar and avoid fatty foods. This is why Soreen is so popular, as all of our products are lower in sugar than the average cake and low in saturated fat.
"Our new Seeds & More Loaf now gives consumers the opportunity to buy their favourite Malt Loaf brand in a delicious seeded variant, while giving retailers the chance to leverage the strength of the Soreen brand and add value to the category."
Soreen Seeds & More is wrapped in brown paper packaging and comes in 260g packs with an rrp of £1.50 each. The launch of the new seeded malt loaf follows the brand's entrance into the lunchbox category last year with its flavoured mini loaves.