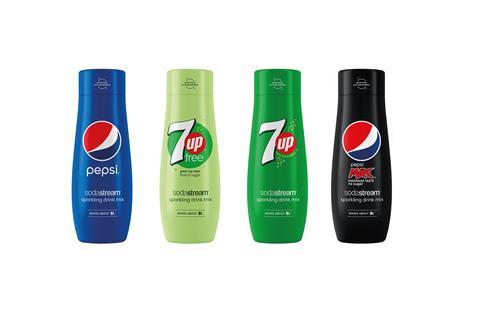 SodaStream is launching four of PepsiCo's drinks as flavours in the UK.
Pepsi MAX, Pepsi, 7UP Free and 7UP will be available through Nisa from 12 October and marks the first time that SodaStream consumers will be able to make PepsiCo drinks at home.
Consumers can make up to nine litres at home out of each 440ml bottle of PepsiCo flavour (£4.99).
"This is a major milestone in SodaStream's mission to bring consumers the best beverage choices, whilst also caring for our planet," said chief executive officer of SodaStream Eyal Shohat. "SodaStream users will be able to make their favourite Pepsi beverages in the comfort of their homes using their SodaStream sparkling water maker and reusable bottles."
"As we look to accelerate growth for SodaStream, we are excited to introduce an offering bringing these powerful brands together," said Jim Andrew, Executive Vice President, SodaStream, Beyond the Bottle, and New Ventures for PepsiCo. "Together with SodaStream, we are working to advance our shared goal of reducing plastic waste and building a more sustainable future, and this represents just another step on this journey."
Consumers can replace their empty gas cylinders too by signing up to SodaStream's Sparkle Saver's Plan to exchange directly and receive a £10 refundable deposit off of future orders, making each gas cylinder just £13. Or consumers can exchange in 3,000 stores nationwide including Asda, Sainsbury's, Robert Dyas, Lakeland and Argos.