Lancashire start-up and so-called internet sensation The Skinny Food Co. is introducing its calorie-free sauces into 59 James Hall Spar stores across the north of England.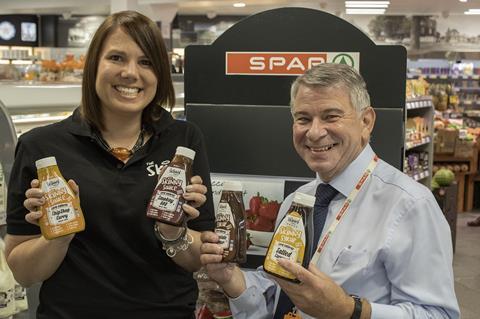 As the first major retailer to stock the portfolio, James Hall & Co. will list a variety of savoury and sweet lines, including: Skinny chocolate syrup; curry sauce; salted caramel sauce; smokey BBQ sauce; white chocolate syrup and milk chocolate bites.
James Whiting, owner of The Skinny Food Co. said: "We are absolutely delighted that Spar have given us the opportunity to sell our products through a major convenience store, making the range more accessible to customers throughout the North of England.
"Our products have been available to buy on our website and through small independent retailers but Spar are the first major retailer to stock the range, and we are really excited to see how the partnership develops. All of our sauces are either low calorie or calorie free, with no added sugar and a healthy alternative to sauces that are usually laden with fat, sugar and calories."
James continued: "Delicious in smoothies and coffees, with greek yoghurt and fruit or drizzled across a stack of breakfast pancakes, our products have proved a hit with thousands of consumers across the country, especially those trying to lose weight, manage medical conditions such as diabetes, or those just trying to avoid refined sugar."
Julie McAulay, company stores director at James Hall & Co. added: "James Hall & Co. are thrilled to be able to support The Skinny Food Co. especially as a young and growing Lancashire business, and one that promotes cleaner and healthier lifestyles."