James Hall & Co., Spar wholesaler for the North of England, has launched an ethnic food-to-go product portfolio, designed to offer retailers the latest in spiced lunchtime options.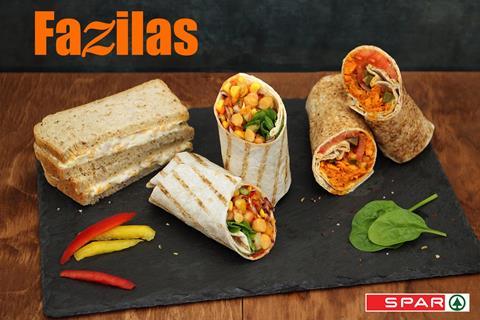 Released under the company's brand, Fazilas, the range features nine products including wraps, flatbreads and sandwiches. Each one features a blend of Asian spices and on-trend flavours.
The portfolio includes: a chicken tikka masala wrap with free range mayonnaise and cos lettuce; a Keralan style chicken wrap with garlic and ginger mayonnaise; a chickpea salad wrap with chilli mango dressing (vegan); a onion bhaj and Bombay potato wrap (vegan); and a Tandoori chicken flatbread with lemon and herb mayonnaise. These products have a rrp of £3.
James Hall has also created a new range of sandwiches for more modest palates, including: cheese; chicken mayonnaise; egg mayonnaise; and tuna mayonnaise variants.
Packed in bright, vibrant packaging, the new range is included in Spar's lunchtime meal deal, which offers a main, snack and drink for £3.50. All lines are available to order now,
Peter Dodding, sales and marketing director at James Hall & Co. said: "This fantastic range has been designed to meet customer demands for delicious, aromatic flavours, and one which will complement the sandwich, wraps and flatbread range currently available in Spar stores."
Peter added: "Fazila Malek started her family business in 1997 and we are thrilled to be able to showcase her exquisite recipes in-store. We are looking forward to introducing further Fazilas lines into Spar stores, throughout the coming year."