Manchester-based Skin Academy is adding a new clear skincare range to its portfolio of beauty and health products.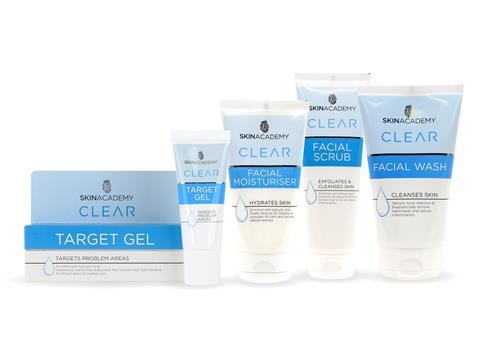 The Skin Academy Clear range, consisting of a facial scrub, wash, moisturiser and spot gel, is designed to help consumers with spot prone or skin with breakouts.
Antony Wagman, ceo of Skin Academy, said: "We had an incredible first year and the launch of a new range shows how well received we have been. Skin Academy Clear has been designed to help people who suffer from acne and dry skin. Ingredients such as Avocado Oil, Salicylic Acid and Sunflower Oil, combine to help reduce further breakouts of acne and relieve dry skin and inflammation.
"The market for acne and dry skin treatments is one that has seen and will continue to see, global growth, as the prevalence of such skincare issues have risen as a result of changing lifestyle and environmental factors. As a skincare company intent on major expansion, we really wanted to develop a product specifically for this market. Clear is the result of a major investment in research and development to create a product that offers a good price point but uses a combination of high quality ingredients for effective treatment of troubled skin."
Enriched with Salicylic Acid, all Skin Academy Clear products are paraben (cosmetic preservatives) free and carry an rrp of £2.49 to £2.99.