Simple is working with girl band Little Mix and cyberbullying charity Ditch the Label to raise awareness of teen online bullying.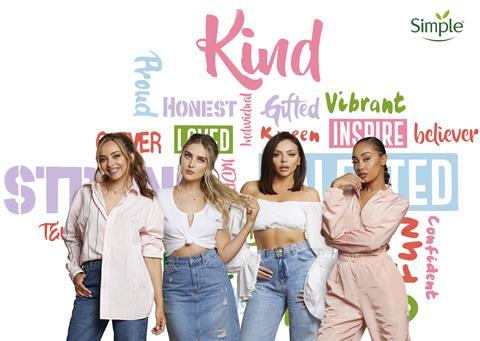 Launching today (June 21) - to coincide with Stop Cyberbullying Day - the new partnership will include a 60 second film, fronted by Little Mix, to encourage more teens to seek help and support.
Hosted on YouTube and Twitter, the film will be supported with paid social media support as well as a custom chat bot. This will provide fans with access to online bullying support tools and new video content from Little Mix.
In addition, Simple and Ditch the Label have co-created an online support hub to help teenagers who are struggling with online bullying. The hub is live now and can be found at www.ditchthelabel.org/Simple.
Chris Barron, vice president for beauty & personal care at brand owner Unilever UK & Ireland, said: "Cyberbullying continues to be a growing issue, and one that affects the young people that buy our products, which is why Simple has teamed up with Little Mix again as we believe it's time to wipe away the hate and choose kindness.
"This is a view that is shared by the girls in Little Mix, as all of them have been extremely vocal in sharing their own experiences of online bullying in a bid to get others to open up and talk about it. By partnering with Ditch the Label and Little Mix, we're continuing to tackle the issue of cyberbullying amongst the people that buy our products and show that there is support out there."