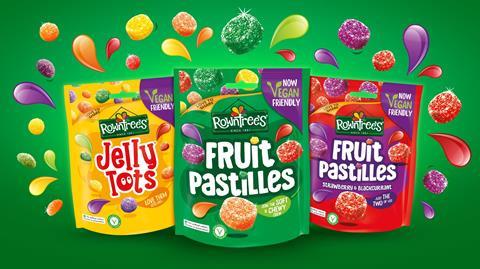 Nestlé has announced that Rowntree's Fruit Pastilles are set to become vegan-friendly.
The new vegan-friendly recipe will be used across the full range of Fruit Pastilles sweets, starting with sharing bags from October. The brand joins Nestlé's expanding range of vegan products, which includes Jelly Tots, Carnation vegan condensed milk and Nescafé Gold dairy alternative lattés.
Nestlé technicians trialled over 30 recipes before arriving at the new formulation. Their mission was to remove the gelatine while ensuring the sweets retained the fruity flavour and iconic chew they are famous for.
Meg Miller, brand manager for Rowntree's, said: "We've had many requests from consumers over the years asking if we can make Fruit Pastilles vegetarian or vegan. We want the brand to be enjoyed by as many consumers as possible and so we are delighted to be able to introduce our new vegan friendly recipe across the full range of sweets.
"Through this recipe change, we've made the sweets slightly softer, which we know has been a market trend for a number of years. However, our priority was to preserve the fabulously fruity chew that has made Fruit Pastilles a classic for almost a century and a half."
The number of vegans in Great Britain quadrupled between 2014 and 2019. In 2019 there were 600,000 vegans, compared with 150,000 in 2014 (Ipsos Mori surveys, commissioned by The Vegan Society, 2016 and 2019, and The Food & You surveys, organised by the Food Standards Agency and National Centre for Social Science Research).
po