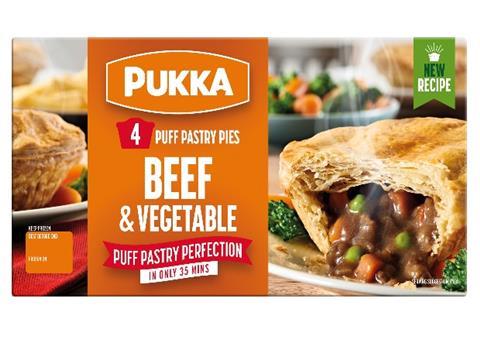 Pukka has unveiled a new range of four-pack puff pastry pies.
The 'Family Favourite' range includes Beef & Vegetable and Chicken & Vegetable puff pastry pies. The pies join Pukka's existing frozen line-up including its microwaveable twin pack pies – available in All Steak, Cheese, Leek & Potato, Chicken & Bacon and a recently launched Vegan Minced Steak & Onion recipe.
Pukka's Family Favourites Puff Pastry four packs (RRP: £3.25, 362g per 4 pack) will roll out across multiple retail, convenience and wholesale from this month.
"We've been bringing the people of Britain great-tasting and award-winning pies for nearly 60 years and our latest recipes are the next step in propelling frozen sales," said Rachel Cranston, head of marketing and innovation at Pukka. "And the category needs food which delivers full on flavour. Our research shows that over half of UK shoppers have negative perceptions of frozen food when it comes to taste and quality. This needs to change.
"That's why we're on a mission to fulfil unmet needs. By bringing our oven baked chicken and beef puff pastry pies to the frozen aisles, we're raising the bar in the category when it comes to quality and flavour, with recipes that we know the whole family will love. In fact, our existing range of frozen pies already outperforms competitors on quality and taste, with over half of consumers saying they'd choose Pukka above other brands."