Princes is investing millions to give its entire product range a new look, marking the brand's first significant update since 2004.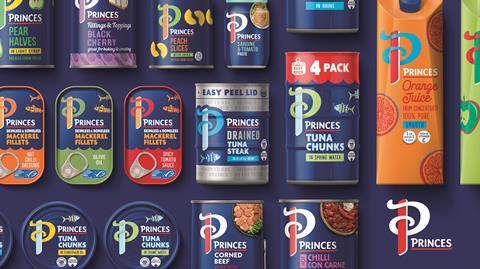 The £5m investment is designed to modernise the company's pack designs and formats, across all product categories including: fish, meat, fruit, juice and ready meals.
New product development will also debut in various categories throughout 2019. The brand refresh will be promoted through a new ATL campaign and communications programme across TV, digital and radio.
PR and retailer promotional activity will begin this month and all activity will run until spring 2020. Updates for core skus are planned to arrive on shelves from this month, with the rest of the new look Princes range rolling out until the end of August.
Alan Eriksen, marketing director at Princes Group, said: "Generations of families have grown up with Princes and over half of all UK households buy our products every year. We understand our audience base is constantly evolving and becoming ever more diverse, and the shape of family life has fundamentally changed.
"This rebrand is a significant part of our response to these developments, and a key part of the strategic plan we launched two years ago. We strongly believe our extensive review of the range puts us in a strong position to both remain relevant, and continue to grow as one of the UK's largest food and drink brands."