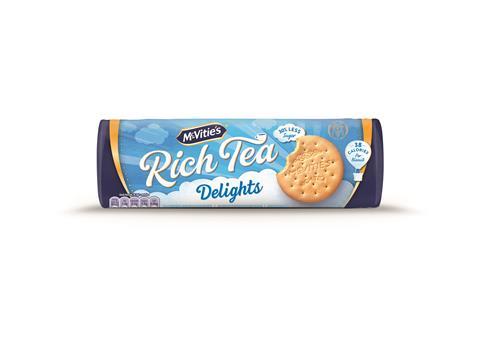 Pladis is expanding its McVitie's portfolio with the introduction of a lighter version of McVitie's Rich Tea.
McVitie's Rich Tea Delights will include 30% less sugar than the typical semi-sweet biscuit, and 38 calories per biscuit, without containing any artificial sweeteners.
McVitie's Rich Tea Delights is available now in 300g packs across multiple retail, convenience and wholesale (RRP: £1.59). Packaging will be recyclable through pladis' partnership with Terracycle (www.terracycle.co.uk). McVitie's Rich Tea Delights will also sit outside of upcoming guidelines relating to HFSS products which means their position in store will not be restricted.
David Titman, marketing director – McVitie's at Pladis UK&I, said: "As biscuit category leader, we understand we have an important role to play when it comes to helping consumers enjoy healthier lifestyles.
"In 2020 we announced that we'd reduced sugar in nine of our biscuit tin favourites, including McVitie's Chocolate Digestives and McVitie's Chocolate Hobnobs. Now, we're going one step further with an extension to the McVitie's range that will give consumers even more choice in the biscuit aisle."