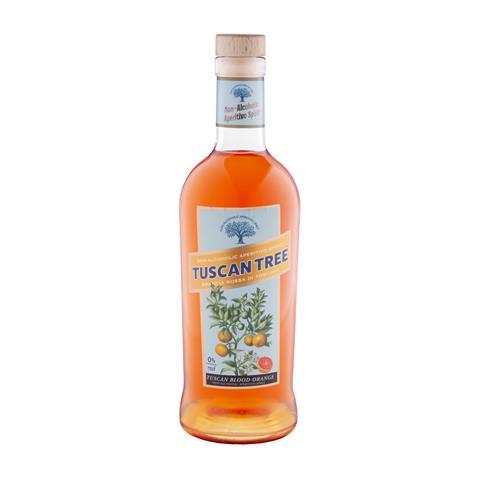 Premium, non-alcoholic Aperitivo Tuscan Tree has launched into the UK.
Tuscan Tree is a 0% A.B.V. distilled spirit infused with real blood orange juice and Italian sparkling wine, alongside a complex blend of non-alcoholic botanical distillates. Developed by the team at The Bloomsbury Club UK, Tuscan Tree has an rrp of £10.99 (70cl) and is available now.
Tuscan Tree is targeted at Negroni lovers, looking for a non-alcoholic alternative and is vegan friendly and allergen free, with no artificial flavours, sweeteners or colours. It is also low calorie, at 51kcal per 100ml serve when served with a light mixer.
Founder of The Bloomsbury Club UK Carl Stephenson said: "The launch of Tuscan Tree is the next instalment of our non-alcoholic strategy, following hot on the heels of the launch of Kvîst last year, sales of which far exceeded our expectations, particularly across the e-commerce sector. We are excited to be offering the trade an authentic, competitively priced non-alcoholic Aperitivo, which we feel will have year-round appeal; as a spritz in the Spring and Summer, and in Negroni-style mocktails in the colder months. We are focused on building a brand which has long-term relevance within the Low and No category."