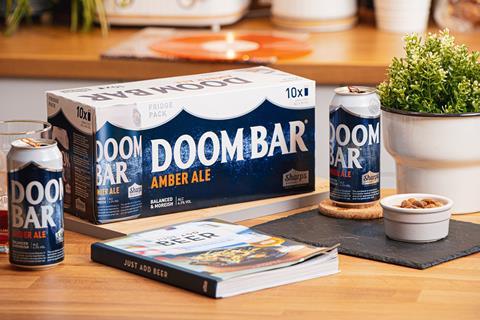 Sharp's Brewery has launched a new Doom Bar 'fridge pack' across the UK off-trade, to tap into growing demand for convenient multipack formats.
The 'fridge packs', which include 10x440ml cans of Doom Bar, have been rolled out in stores across the UK this month. The cans are encased in a recyclable cardboard sleeve, and include an easy to carry handle and quick tear-open fold.
The format aims to cater to the growing demand for products that help shoppers save time and effort during their shop, and taps into the growing consumer trend towards fewer, but bigger grocery shops.
Sharp's Brewery's marketing controller James Nicholls said: "With changing shopper behaviour, consumers are looking for trusted brands that offer larger pack formats at great value, making it easier for them to be stocked up for longer.
"We're delighted to welcome another addition to the Doom Bar family, providing convenience as well as the usual great quality beer for Doom Bar fans across the country."
[1].
[2].
[3].
"We're delighted to welcome another addition to the Doom Bar family, providing convenience as well as the usual great quality beer for Doom Bar fans across the country."