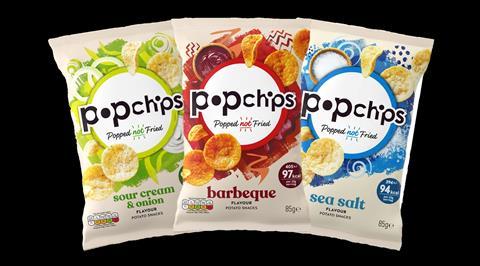 KP Snacks has launched a £2.3m campaign for Popchips.
The new campaign sees the brand make its first-ever TV appearance, driving greater awareness and excitement for Popchips. It sees the friends share a bag of Popchips creating a series of positive bonding experiences. The campaign highlights popchips' unique selling point of 'popped, not fried' and includes a rallying call for consumers to 'Start Something Good'.
The new creative will appear in a £2.3m TV/VOD and online campaign running throughout March. A 30" TV ad will run during March 1 and then run again for a second burst in September, whilst a social media campaign will run throughout the whole of 2021.
Marketing controller at KP Snacks Zoe Cashin-Howe said: "This is the first time that Popchips has been on TV and it comes at an extremely exciting time as the brand continues to grow within the healthy snacking market. The new creative is fun and witty and brings the Popchips brand personality to life.
"CSN products have remained hugely important in the wider healthy snacking space and the aim of this campaign is to drive awareness and trial, keeping Popchips front of mind for consumers looking for a tasty and balanced snack to share".