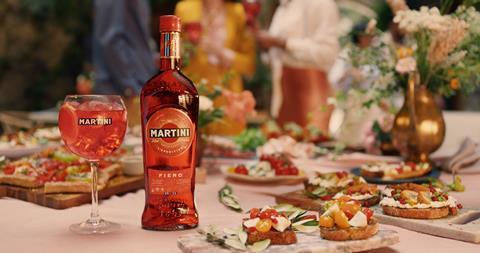 Martini has launched a new, fully integrated brand campaign.
The 'Time Best Shared' above-the-line campaign will launch with two new creatives, directed by renowned Italian-Canadian filmmaker and artist, Floria Sigismondi. The first, which will premiere on television, 'Shared Memories', shows a woman returning to her hometown where the memories of her friendships remain vividly with her. 'Shared Connections' will be shown across digital channels and demonstrates how the bonds between friends connect their lives in a magical way.
Martini will be activating 'Time Best Shared' across advertising, PR and social media and aims to reach a new generation of Aperitivo drinkers. The above-the-line campaign was created by advertising agency AMV BBDO, and will also live online through a calendar of innovative video and social media content, alongside a dedicated PR and influencer campaign.
Global vice president of Martini, Victoria Morris, said: "At Martini, we understand the importance of time spent with friends; it's been at the very heart of our brand since it was founded by three friends over 150 years ago. The best memories are made with those closest to us, most often when it is catching up over a drink and sharing stories. Martini Time Best Shared reminds people about those magical moments when we meet friends and create lasting connections . The campaign celebrates those everyday moments when you can truly be yourself in the company of the people that matter most."