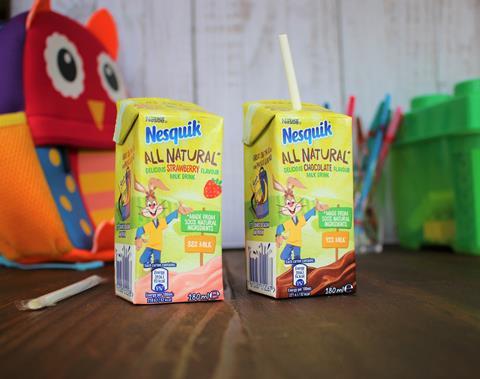 The firm is targeting the on the go market with an RTD carton.
The milkshake drink brand has been bought by generations as a powder to be made at home with milk, but this new product can be bought in convenience stores and is ready to be enjoyed immediately.
The drink is part of the All Natural range, which launched in the UK in January this year, and comes in chocolate or strawberry flavour.
Nesquik Ready to Drink is available in 180ml singles (rrp 79p) and packs of three (rrp £1.79).
Marketing lead for dairy brands UK, Vittoria Simms said: "We are really excited to be launching this new product which makes it much easier for families to be able to enjoy Nesquik on the go, and provides parents with an all-natural ingredients option. This is part of our commitment at Nestlé to offer more natural and environmentally friendly choices while maintaining the great taste that people know and love."
The drink comes in a 180ml recyclable Tetrapak with a recyclable paper straw, furthering Nestlé's commitment on plastic waste, moving from recyclable plastic to recyclable paper packaging.