Nestlé has launched a new Nesquik with natural ingredients and a recyclable paper pouch.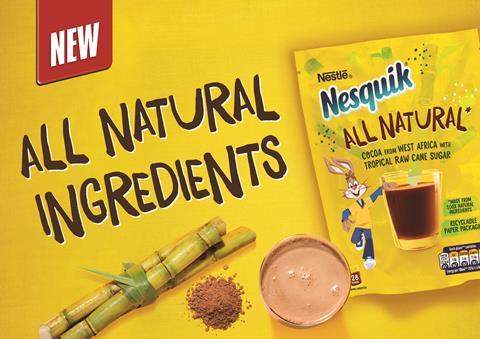 The Nesquik All Natural powder, which features just five natural ingredients, comes after Nestlé's commitment to accelerate action to tackle plastic waste.
The paper packaging is considered "an important step forward" in Nestlé's commitment to make all of its packaging recyclable or reusable by 2025.
Nesquik All Natural also has less sugar than the current classic product, using raw cane sugar instead of white sugar, and with the cocoa responsibly sourced from West Africa under the Nestlé Cocoa Plan.
Senior brand manager Vittoria Simms said: "We're proud to be able to launch Nesquik All Natural as a new addition to the range, providing parents with an all-natural option with a simplified ingredients list, with less sugar and in a recyclable paper packaging.
"This is part of our commitment at Nestlé to offer more natural, sustainable and nutritious choices while maintaining the great taste that people know and love."