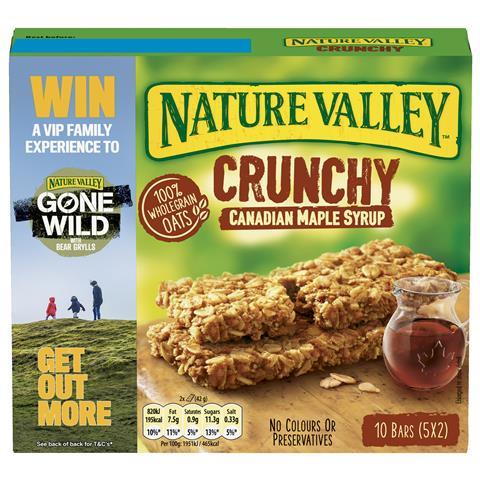 Nature Valley from General Mills has announced the launch of a new on-pack promotion, giving families the chance to win tickets to the 'Nature Valley Gone Wild Festival with Bear Grylls' taking place from 26 to 29 August.
The on-pack promotion will be rolled out across the Nature Valley Crunchy range from now until 19 August, with a host of prizes up for grabs, including:
· 3 x VIF (Very important Family) Family weekend tickets
· 10 x Family weekend tickets to Gone Wild Festival
· 100 pieces of branded merchandise
The on-pack promotion will be supported by TV, Video on Demand, digital and audio advertising, a social media, influencer campaign, and in-store shopper activation. This will be part of the brand's £2m investment into its 'Get Out More' campaign, which aims to deepen the connection between the Nature Valley range and UK families.
Marketing manager for snacking at General Mills Roisin Witort said: "After more than a year of mainly being cooped up indoors, we're thrilled to give families the chance to win tickets to one of the most exciting events of the year through our on-pack promotion. With a host of acts set to perform and exhilarating activities to take part in, it promises to be a great weekend for all!"