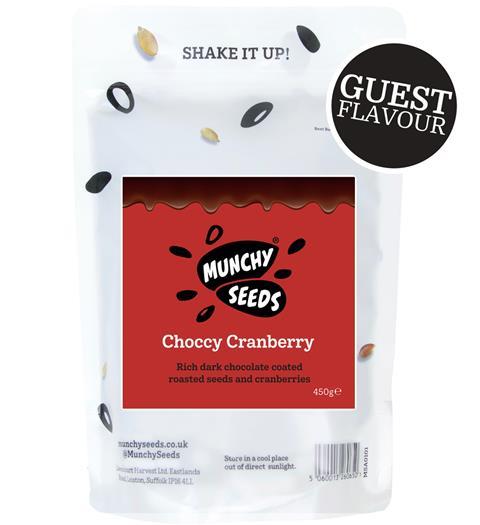 Seed snack producer, Munchy Seeds, is gearing up for Christmas with the launch of Choccy Cranberry.
Launched in response to the demand for healthier seasonal snack choices, vegan and gluten-free Choccy Cranberry will be available in a 125g sharing pouch (rrp £3.60) and 450g mega packs (rrp £10.50) and promises plain chocolate-coated roasted sunflower and pumpkin seeds with sweet and tart bursts of dried cranberries in every mouthful.
"We are very excited to bring this new flavour to the market in time for the colder months," said Lucinda Clay, co-founder of Munchy Seeds. "Our chocolate-coated seeds have always been popular with our customers and we expect this launch to be no different. Chocolate coated seeds and sweet cranberries - what could be tastier than that?"
Choccy Cranberry will be available to all retailers from November and is the perfect snack choice for sharing, gifting or nibbling on when you need something sweet. Choccy Cranberry is available in 125g sharing packs, RRP £3.60 and 450g mega packs, RRP £10.50.
Munchy Seeds produces a range of sweet and savoury seed mixes, Breakfast Boosters and Savoury Sprinkles in 25g, 125g and 450g pouches.