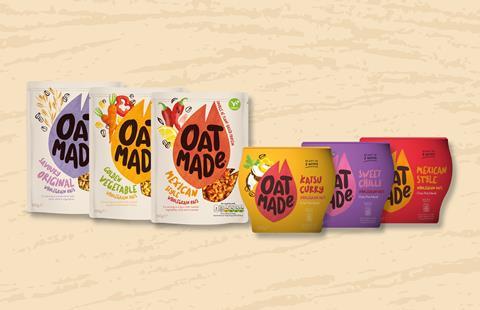 Morning Foods has moved away from breakfast with the launch of a new range of oat-based convenience meals.
Oat Made is available in a meal pot or pouch format that aims to provide an alternative to traditional pouched rice and noodles. The range in pouches (all 250g) comprises three flavours – Golden Vegetable, Savoury Original and Mexican Style. The pots (all 250g) also come in three flavours - Mexican Style, Katsu Curry and Sweet Chilli Oats. The Pouches RRP is £1.75 and Pots £2.25.
Oat Made is the brand's first step away from breakfast and into other mealtimes and is supported by a significant multi-channel six figure launch campaign.
James Lea, managing director at Morning Foods, said: "Many factors have inspired Oat Made, from the growth of world foods, especially amongst younger consumers, to health, wellbeing and diet being more important than ever before. Vegan and flexitarian diets continue to grow in popularity as plant-based food is becoming more mainstream and an interest in gut health amongst consumers continues to increase.
"We believe this range will fly off the shelves and is likely to appeal to the majority of consumers, from those who are time-poor to those who want to lead a healthier lifestyle."