Mentos Gum is extending its Pure Fresh line this month with two new fruity variants joining its bottled gum range.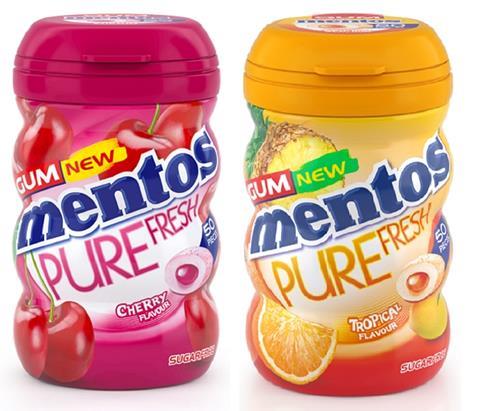 The Tropical and Cherry sugar-free liquid-centred gums promise long-lasting flavour and are being positioned as great for on the go and handy for people looking for a quick refresh after coffee or before heading to a meeting. Mentos says retailers should therefore position the gums close to coffee machines and food to go. They also tap into the premium gum market as they come in a larger 2g sized chew, 30% bigger per piece than its competitors.
The gums are available in re-sealable bottles containing 50 pieces (rrp £2.25). Bottles currently form 59% of the gum market and are growing at 10.5% (IRI 52 w/e 14 October 2019), making the new additions a potentially lucrative opportunity for retailers, Mentos Gum believes.
Mentos product manager Sally Fenton said: "We're really excited to be extending our Pure Fresh Gum offering. Tropical and Cherry are a playful twist on more traditional refreshment flavours. We know that the refreshment market is under pressure to match the success of traditional sugar confectionery and there's increased demand for sweet flavours. That's why we're responding once again by injecting innovation into the category.
"Tropical and Cherry have already received brilliant feedback from consumers and we're confident that this is going to be a successful launch."
Fenton continued: "By adding colour and vibrancy to the refreshment category, we expect the orange and deep-red coloured bottles to attract a younger audience looking for a more indulgent option when it comes to gum."