The Best-one and Best-one Inspired own label ranges have been extended with the launch of five premium coffee variants.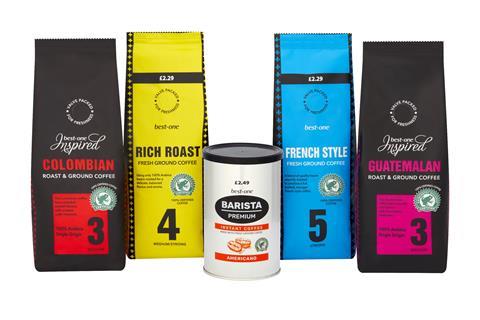 Bestway hopes that the new products, available to Best-one symbol group retailers, Xtra Local Club and Bestway Wholesale customers, will compliment its existing line-up of Best-one instant coffee granules
The five coffee variants are 100% Rainforest Alliance certified. The range includes the following in strengths three (medium), four (medium / strong) and five (strong):
Best-one Inspired Colombian Roast & Ground Coffee – 100% Arabica Single Origin
Best-one Inspired Guatemalan Roast & Ground Coffee – 100% Arabica Single Origin
Best-one Rich Roast Fresh Ground Coffee
Best-one French Style Fresh Ground Coffee
Best-one Barista Instant Coffee Americano Finely Ground Coffee.
The ground coffee products come packaged in valve-packed bags for freshness, whilst the instant barista coffee comes in a recyclable tin similar to other branded coffees on the market.
The packaging is shelf-ready for added convenience and the new lines can be ordered in a case size of six, designed to prevent waste and help retailers manage stock.
All lines in the Best-one filter coffee range are price marked. The ground bags are £2.29 PMP / 227g while the instant tin is £2.49 PMP / 100g.
The premium Best-one Inspired products are made with coffee beans, sourced from Colombia and Guatemala, and carry an rrp of £2.99 / 227g bag.
Kenton Burchell, trading director at Bestway Wholesale, commented: "These products have been in development for over a year, so this is a very exciting launch for us. Our category manager for own label Altaf Khan has sourced the finest products and benchmarked them against leading brands and other own label products in the market.
"Our Best-one own label range provides retailers with a minimum of 30% POR and improves the value proposition for consumers across a convenience store. With hundreds of products in the range and more launching in the coming weeks, the best-one and Best-one Inspired ranges are the perfect products to provide consistent quality for value prices across the independent trade"