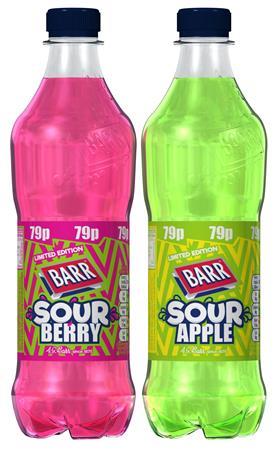 Barr Sours soft drinks in Sour Berry and Sour Apple flavours (both 500ml, pricemarked at 79p) are coming onto the market from July for a limited period.
Supplier Barr Soft Drinks claimed that they would boost the already popular Barr carbonates range, which is currently worth £44.2m (IRI MAT Value to 21/03/21).
"Limited edition flavours are always very popular with shoppers, where taste is still the key driver," said Adrian Troy, marketing director at Barr Soft Drinks. "Not only do they drive sales but increase brand engagement and conversation whilst creating excitement at fixture. New flavours in the category have delivered more than £50m worth of sales over the last two years [Kantar], and consumer research has shown us that Barr lovers will be excited to try the Sours range, so retailers should make the most of this seasonal sales opportunity, before it's gone."
POS will be available from the end of July to signpost these fun flavours and help retailers drive sales of the full Barr range.