Rice brand Laila is hoping to raise money for good causes this Ramadan season wits its new 'Love to Share' campaign.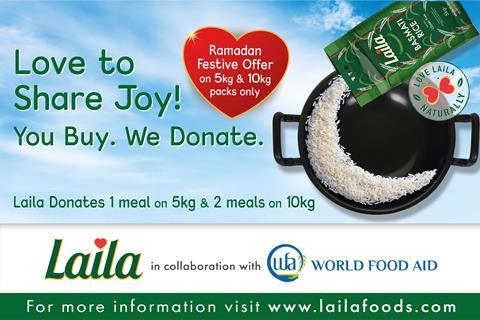 The company's latest activity builds on the rice producer's recent re-brand which marked the launch of 100% recyclable packaging and a new product strap-line – 'Love Laila Naturally' - across the Laila range.
During the brand's new campaign for Ramadan, customers who purchase special 5kg or 10kg packs of rice can use a unique on-pack code via the Laila Ramadan App to donate to a charity of their choice.
Donations will be made via Laila's affiliated UK charity World Food Aid with beneficiaries including Noor Foodbank, Preston, the Bradford Foodbank, Trussell Trust, Muslim Hands and FareShare.
Harry Dulai, md at brand owner Surya, said: "Giving is part of the fabric of Ramadan. It is estimated that up to four million UK Muslims will donate more than £100m to those in need during this one month, which the Muslim Charities Forum translates to around £38 being given every second.
"To further build on this fantastic spirit of giving and generosity we are delighted to enable our customers to donate to a charity of their choice while going about their weekly shop. Ramadan 2019 is one of the key points within a year- long campaign celebrating our rebrand."
To support the campaign, a new and improved Laila Ramadan App will be launched providing essential information regarding fasting, prayers and rituals taking place throughout the season.
The app first launched in 2014 and will be supported this year by in-store activation for independent retailers including: POS packs, decorative shippers and display towers.
The new campaign will also be promoted through social media, special promotions, advertising and PR activity. A brand new Laila website has also been launched in line with the re-brand which is being rolled out now across all Laila products globally.