Laila is launching a 'plant power' ad campaign to mark its expansion into lentils, beans and flour, which includes introducing a host of new skus.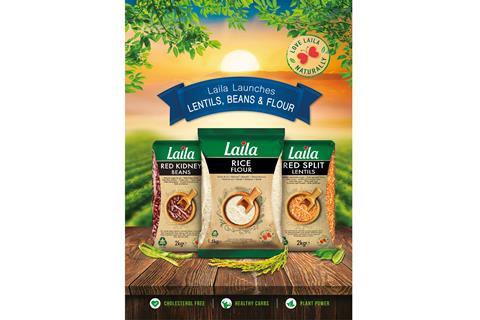 The brand extension will see 19 products added to the Laila range, all under the new 'Laila Naturals' brand.
The range comes packaged in line with the brand's recent multi-million rebrand, which included the rollout of 100% recyclable packaging across its entire range of smaller rice bags.
The Laila Naturals line-up consists of chickpeas and kidney beans, semolina, polenta and rice flour.
All are designed to tap into wholefood and vegan trends as Harry Dulai, managing director at brand owner Surya Foods, explained: "It's increasingly supported by research that whole food, whole grain carbohydrates, lentils, beans and peas are among the best sources of protein and energy for optimum health.
"More and more consumers are focusing on adopting healthy eating habits and are mindful of how their preferred sources of protein impact the planet and their personal health with many now opting for plant-based protein. Laila Naturals is a range dedicated to bringing the best plant produce from around the world, rich in natural proteins, fibre, iron and vitamins, to UK consumer so they can enjoy nature's power houses of protein and energy."
The Laila Naturals portfolio will be made available to independent stores from mid-October, sold in 500g and 2kg packs with an rrp ranging from 99p to £3.49.