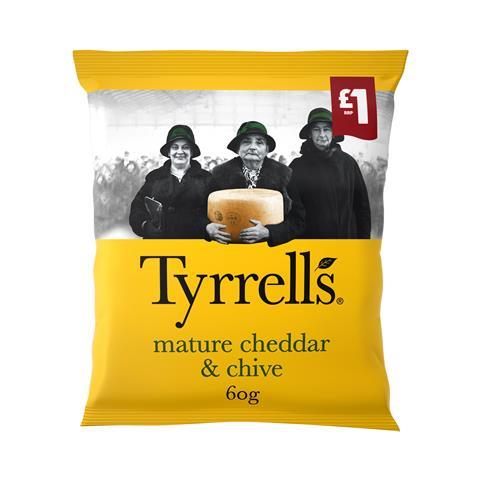 KP Snacks has announced the expansion of £1 PMP range with the addition of three flavours from its premium snack brand Tyrrells. The new Tyrrells £1 PMP 60g packs are available in three core flavours: Lightly Salted, Sea Salt & Cider Vinegar, and Mature Cheddar & Chive.
According to Nielsen data, the KP Snacks £1 PMP range is currently outperforming the category at +13.5. With these additions, KP Snacks now offers 24 £1 PMP SKUs.
Trading director at KP Snacks Matt Collins said: "We are extremely excited to be launching three core Tyrrells products as £1 PMPs. Tyrrells is already a well-known and much-loved brand, and by moving into PMPs, we can offer great value whilst widening our appeal.
"KP Snacks is currently thriving in the PMP segment, outperforming market growth and offering an exciting range in this versatile format. We are continuing to expand our PMP portfolio, driving sales for retailers by engaging consumers with products they love in an appealing and increasingly popular format."