Kingsmill is returning to TV screens with a new campaign aimed at supporting its 50/50 Vitamin Boost range.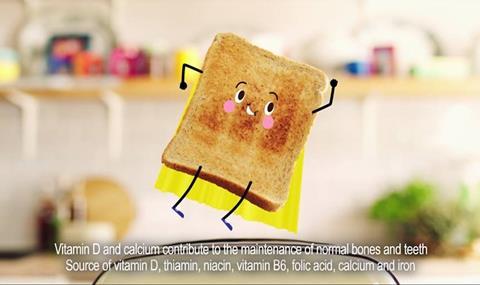 Promoted using the company's 'Loaf's Good' campaign platform, the TV activity carries the tagline: 'Bread with Super Baked In', highlighting the seven vitamins and minerals used in every 50/50 slice.
The new campaign consists of two creatives: one featuring a caped bread superhero flying out of a toaster and another featuring the same character flying into a boiled egg.
Launching today (7 October) with a £2m budget across TV and digital, the Kingsmill ads will run for five weeks and follows a digital and outdoor campaign run by the brand this summer.
Matthew Cullum, director of marketing at brand owner Allied Bakeries, said: "After the success of the 'Loaf's Good' advert which debuted in 2018, we wanted to launch a second wave of activity to celebrate the goodness of our 50/50 Vitamin Boost loaf. Our slogan reflects a positive outlook on life and enhances the idea that it's the simple pleasures in life that matter. Our 'Super Baked In' creative builds on this light-hearted message and reflects the Kingsmill personality."