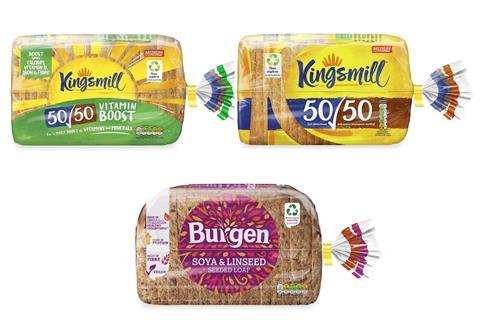 Allied Bakeries is set to add a new on-pack recycling logo across its range of Kingsmill and Burgen pre-packed breads.
Designed to help increase recycling awareness among consumers, the front of pack logo will accompany the existing OPRL recycling logo, which will continue to appear on the back of packs.
All Kingsmill and Burgen bread bags are fully recyclable through collection points at larger retailer stores across the country.

Matthew Cullum, director of marketing at Allied Bakeries, said: "Reducing our use of plastic and finding packaging alternatives are high on our sustainability agenda, and something we're working on independently as well as through cross-industry initiatives. In 2018 we reduced the amount of plastic packaging we use in a year by 240 tonnes - simply by reducing the thickness of Kingsmill bread bags. Now, by adding the recycling logo to our portfolio, we're trying to increase consumer recycling of bread bags.
"Ideally consumers would be able to recycle bread bags as part of their household recycling, but unfortunately that is not currently possible – even though bread bags are made from a material that is recyclable. That's why we're asking them to drop off their bread bags at recycling points in their local supermarket, together with any used carrier bags which are made from the same material. The ultimate sustainability challenge faced by the food industry is to make packaging both readily recyclable and able to keep food safe and fresh, in order to help reduce food waste and protect consumers. This is what underpins all of our thinking."