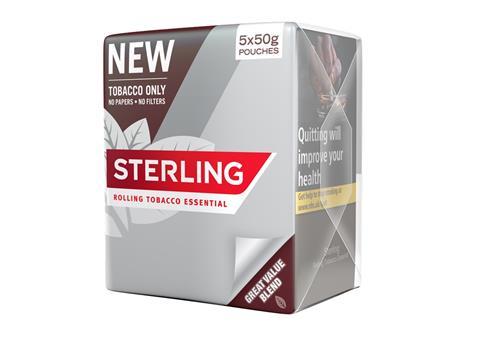 JTI has added a new 50g format of Sterling Essential Rolling Tobacco to help retailers tap into the growth in demand for value RYO products.
The 50g format (rrp: £21.20) has been launched to take advantage of the demand for value products in the category. Similar to the 30g format, Sterling Essential Rolling Tobacco 50g is billed as a 'less for less' alternative, with no filters and papers providing existing adult smokers the freedom to purchase their preferred tobacco accessories.
It also comes in a paper insert pouch packaging which contains less aluminium, and the blend generates less leaf waste compared to other RYO brands due to its unique whole leaf blend.
JTI is also keeping the 30g variant at the same rrp (£12.95).
Marketing vice president at JTI UK Mark McGuinness said: "With more and more existing adult smokers purchasing value RYO brands over the past year, there has never been a better time to expand the Sterling Essential Rolling Tobacco range into a new format. With the demand for value RYO products a key trend in the market, we want to support our retailers and wholesalers so that they can meet this demand by offering a quality brand with competitive RRPs. We would recommend retailers price the product at the Recommended Retail Price and stock both the 30g and 50g formats to offer choice to customers and make the most of the profit opportunity available."