The Original Free Drinks Company is making its retail debut with alcohol-free brand: Highball Cocktails, the UK's first range of 0% ready-to-drink (RTD) cocktails.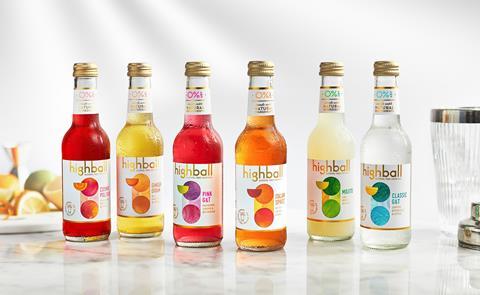 Tapping into the no or low alcohol trend and available to c-stores now, the Highball range consists of six cocktails: Classic G&T; Pink G&T; Cosmopolitan; Mojito; Italian Spritz; and Ginger Dram (rrp £2 / 250ml bottle).
Each cocktail has been developed using natural ingredients, including fresh juices, bitters, extracts and agave nectar. With less than half the calories of a regular cocktail, the new drinks are designed to offer consumers a healthy alternative to existing ready-to-drink options.
Kate Johnson, co-founder of Highball Cocktails, said: "We are passionate about providing great tasting and healthy alcohol-free alternatives that do not require a compromise, allowing consumers to have confidence in their positive alcohol-free choice. Our Highball Cocktails set a new standard in 0% flavour experience and we will continue to add more classics to the range, as well as introducing original cocktails of our own."
Red Johnson, co-founder of Highball Cocktails and ceo of the British Bottle Company, added: "High quality, alcohol-free drinks with great brand recognition are in real demand, but still unrepresented. Highball Cocktails is the first brand to create alcohol-free alternatives to Aperol Spritz or Pink G&T, two of the most popular cocktails right now. Our experience of working with brands such as Seedlip and Big Drop Brewery shows us that there is a growing global market for premium alcohol-free drinks and the UK is pioneering in this category."