Heineken is getting ready for the 2019 Rugby World Cup with the rollout of a limited edition range of bottles designed to celebrate the tournament.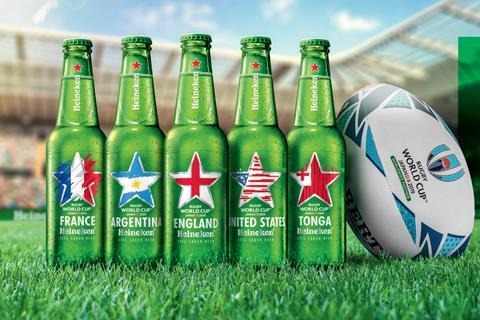 Available in c-stores now, the special bottles feature labels showing the flags of each country taking part in the competition and will be available in multipacks of four x 330ml and 12 x 330ml across Heineken 5%.
The entire collection, designed to support the brand's sponsorship of the tournament, will be promoted by a new multi-channel campaign across PR, digital and TV, focusing on the messaging that during the Rugby World Cup everyone can be a fan regardless of their knowledge of the sport.
Nic Casby, brand director for Heineken, commented: "Sporting events such as the Rugby World Cup present a massive opportunity for retailers to grow their beer and cider sales even further. As the lead beer sponsor for the tournament, Heineken is naturally best placed to help retailers fulfil this goal and our new limited edition bottles are just one way we are doing this. By creating excitement around the World Cup, as well as helping to promote it in store through eye-catching bottle designs, we aim to give retailers all the tools they need to have a successful Rugby World Cup activation."