Heineken has announced the launch of a new campaign encouraging consumers to "Say Yes" to alcohol-free beer and cider.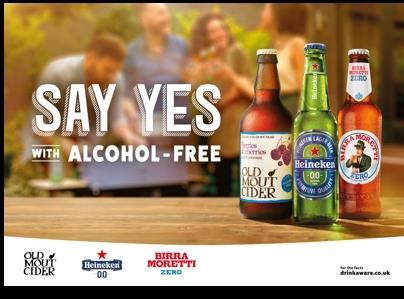 The new campaign, which is set to launch in mid-May, will run in-store and online across the UK and aims to introduce new shoppers to the no and low-alcohol category.
Heineken category and shopper marketing director, Toby Lancaster, said: "No-and-low alcohol is currently booming. The beer category is currently experiencing +24% yearly sales value growth and the cider category at +38% growth, with this level of increase expected to continue.
"As more shoppers introduce alcohol-free beer and cider to their repertoire, the Say Yes campaign by Heineken UK and Twelve will accelerate this trend by inspiring new occasions to enjoy, while combating outdated pre-conceptions once associated with the category."