Multipacks of Harrogate Water will sport UCI World Cycling Championship-themed packaging from this month, to celebrate the brand's sponsorship of the event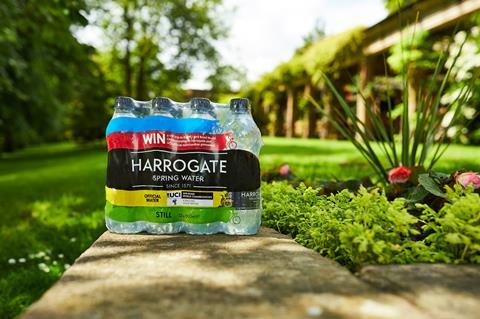 A consumer competition, with a top prize of tickets to the championships, will be printed on the top of the updated packs and official merchandising will be given away as part of the promotion.
Olympian and UCI World Champion cyclist Lizzie Deignan will also feature in a digital and social marketing campaign to promote the product and the partnership between Harrogate Water and the UCI.
Harrogate Spring brand manager, Nicky Cain, commented: "The striking new 12 x 500ml multipack has stand-out appeal and will be available across retail to celebrate the global event, one of the greatest cycling milestones, watched by 250 million people in 150 countries.
"As well as loving cycling, we're also passionate about recycling. All Harrogate Water products are 100% recyclable and our PET and glass bottles are made using at least 50 per cent recycled content. We look forward to working with the organisers to make sustainability a core element of this great cycling event."
Deignan added: "It's great to see the Harrogate Spring design incorporating the iconic UCI rainbow stripes – blue, red, black, yellow and green – symbolising the rainbow of continents taking part and the millions of spectators tuning in around the globe."