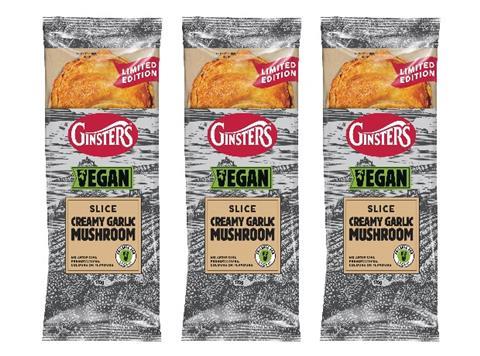 Ginsters has extended its range of meat-free recipes by introducing the Ginsters Vegan Creamy Garlic Mushroom Slice in time for Veganuary.
Available now, the limited-edition 170g slice widens Ginsters' meat-free range to seven recipes, complementing the success of Ginsters' trio of Plant-Based.
The plant-based innovation is made with sliced white and chestnut mushrooms brought together in a vegan cream and white wine sauce with roasted garlic puree, coconut milk, potato, onion, and herbs. The filling is wrapped in a light puff pastry with a hint of lemon zest to finish.
Ginsters managing director Sam Mitchell said: "As consumers look to a healthier start to the year, and interest in reducing meat heightens, we want to ensure we're offering something that meets every meal occasion. Our latest vegan launch responds to the demand for more choice, while reinforcing to shoppers that Ginsters is the category leader, harnessing trends and bringing new flavours and formats to the category.
"Savoury pastry is an impulsive category and limited-edition recipes play into this, delivering different flavours to maintain consumer interest and engagement – as the success of our limited-edition festive slice shows. Our Vegan Creamy Garlic Mushroom Slice kicks off 2022 by bringing something new to Veganuary with try-it-while-you-can excitement."