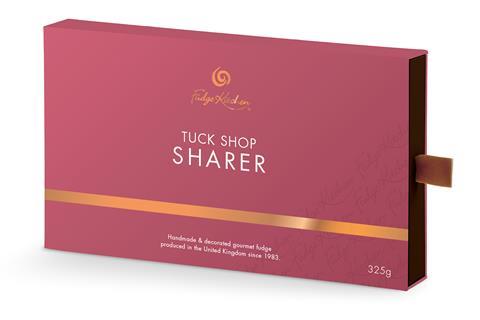 Fudge Kitchen is rolling out a Tuck Shop selection of traditional sweet flavours made using artisan fudge.
Available from April and launching at the IFE show in ExCel London (17th – 20th March 2019), the sharing product is made up of 15 squares of artisan fudge.
Each 330g box includes five retro variants: Pear Drop; Parma Violet; Lemon Sherbet; Blackcurrant & Liquorice; and Rhubarb & Custard, and carries an rrp of £15.
Sian Holt, managing director at Fudge Kitchen, said: "Fudge Kitchen is in the midst of a radical overhaul of our ranges and our packaging, which is very exciting. "It started last year with a rebrand of our seven shops, our bags and of our ecommerce website; and continues this year with a beautiful repackaging of our brittles and caramels range and of our themed fudge selections, giving them a range and brand unity and a contemporary uplift.
"The products and flavours across all our ranges have also been carefully curated to offer a wider span of targets in design, price points and flavours. And represent our continued focus on innovation and on developing and initiating emerging trends, which includes the vintage one that refuses to go away."