Coca-Cola European Partners (CCEP) is turning its Fanta product jet black for the first time this Halloween with the launch of Fanta dark orange.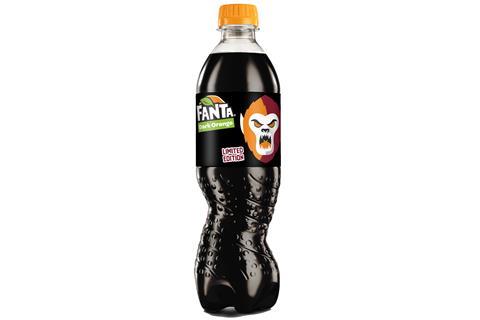 The Soft Drinks Industry Levy-exempt variant features a blood orange flavour and werewolf-themed packaging to stand out on shelves.
Available in the convenience channel in 500ml plain and pricemarked packs from mid-September until Halloween, the black drink will be introduced alongside a Halloween-themed makeover for the rest of the Fanta range.
On-pack graphics will appear across regular and zero variants of Fanta orange; lemon; fruit twist; pink grapefruit; and grape.
The special packs and new Dark Orange variant will be supported by a multi-million marketing campaign spanning digital and outdoor advertising, social media and Twisted Carnival activities.
Fanta's Twisted Carnival is a Halloween experience that travelled the UK last year and proved popular with consumers. It will be supported this year across social media with related posts on Snapchat, partnerships with online media and influencers.
Simon Harrison, vice president of commercial development at Coca-Cola European Partners GB, said: "Last year was Fanta's best performing Halloween to date, delivering record sales of £15.8m over the four week Halloween period [Nielsen GTC Total GB 4w/e 03.11.18]. We're confident that by tapping into the consumer demand for fun flavours with Fanta dark orange the plan for 2019 is even stronger, further enhancing Fanta's association with Halloween which is becoming as synonymous as Coca-Cola's link to Christmas."