Healthier snacking brand Eat Real has unveiled its new consumer advertising campaign which is expected to reach in excess of 16 million people.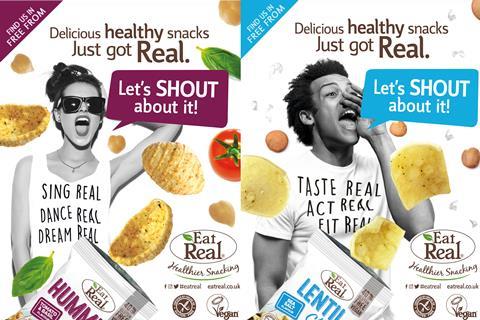 Designed to appeal to young, health-conscious men and women, the new 'Let's Shout About It' tagline builds on the success of the brand's 2018 slogan: 'Delicious healthy snacks just got Real' theme.
"These eye-catching images really underline the success that Eat Real is currently enjoying and drive home the message that Eat Real is the 'go to' healthier snacking brand that really delivers on taste, flavour and health benefits," commented Debbie King, director of commercial sales & marketing at Eat Real. "We're targeting a mix of titles that we know our customers read so we can be sure of delivering our message literally right into their hands!"
Eat Real offers a wide range of plant-based snacks which are free from all 14 declarable allergens (including gluten, dairy and soya). The offer includes Hummus, Lentil and Quinoa Chips, Quinoa Puffs and Veggie Straws, all available in a choice of classic and contemporary flavours and in pack sizes 30g - 135g.
The new 'Let's Shout About It' ads will promote the entire portfolio in a range of women's consumer and specialist interest magazines, such as Hello!, Your Healthy Living, Runner's World, Gluten-Free Heaven and The Vegan, until the end of July.