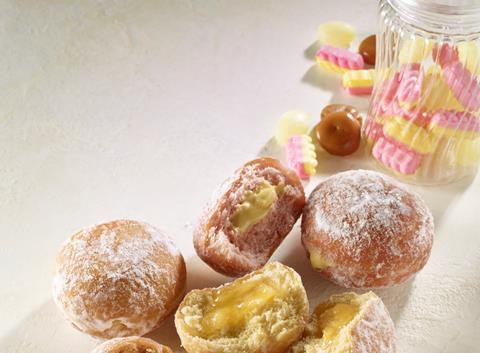 Country Choice has added three new varieties of Funtime doughnuts. The new doughnuts follow a nostalgic 'sweet shop' theme and come in three flavours: Lemon Sherbet, Rhubarb & Custard, and Toffee.
The 'sweet shop' concept has been created following strong feedback for Country Choice's Chocolate Orange Funtime doughnuts.
The Funtime 'sweet shop' doughnuts are supplied with sustainably sourced and fully recyclable packaging that is compliant with Natasha's Law. The RRP is 3 for £1.50 and the packaging includes a full ingredient description along with "3 for £1.50" product stickers. The taller and slimmer packaging design allows retailers to fit more on the free-standing display unit. The 71g 'thaw and serve' doughnuts are available in cases of 60 and have a shelf life of two days.