Country Choice is all set for the 2019 Christmas season with a mix of new festive lines backed up by some old favourites.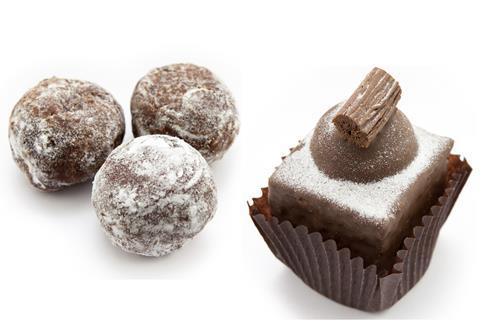 Joining the brand's treats selection this year are Christmas jammy shortbreads. The individually wrapped jam-filled biscuits are decorated with either a Christmas bell or Christmas tree and come in mixed cases of two x eight (rrp £1.49 each).
An individual chocolate yule cake (rrp £1.49) and bite sized chocolate orange funtime donuts (rrp £1.29 / 4 pack) are also new this festive season - launching alongside a crumble topped mince pie (rrp £1.49 / case size: 24).
The new lines will join the existing Country Choice Christmas range which includes three varieties of mince pie (shallow shortcrust; luxury deep fill with brandy; and puff pie with brandy), four types of thaw and serve mince pie (ranging from a luxury product stuffed with sultanas, raisins, currants, orange and lemon peel to mini mince pies) and bite-sized shortcrust pies with a star-shaped lid. An 80g thaw and serve gluten-free mince pie completes the line-up.
Retailers can also stock a thaw and serve wheat-, gluten-, and dairy-free iced fruit cake, combining fruits and mixed peel with a layer of marzipan and a topping of white icing. Packed in cases of 18, each slice carries an rrp of £1.59.
In addition, Country Choice is bringing back its festive friends marshmallow-topped biscuits this Christmas (rrp £1) The decorated treats will sit alongside the brand's chocolate mallow puddings, snowman cupcakes and mini Gingerbread biscuits (rrp £1.49 respectively).
For the grown-ups, the Country Choice cranberry twist is also returning to shelves along with a butter croissant pastry twist, filled with crème patissiere and sweet cranberry pieces. The 90g twists are ready to bake and carry an rrp of £1.09.
Savoury offerings featured in the brand's Christmas range include a turkey, stuffing and cranberry sandwich, two ready to bake bars (pork & cranberry and steak & cheese) and two festive bakes (a turkey, stuffing, cranberry & ham bake and a chicken & stuffing bake).
Finally, a trio of 24g bite-sized ambient savouries complete the Country Choice festive line-up. The three varieties – spicy beef sausage in a lattice puff pastry; seasoned pork sausage wrapped in puff pastry; and a cheese & onion filling wrapped in puff pastry, have an rrp £2 and come in wrapped cases of 16 with an ambient shelf life of 12 hours.