Unilever is moving its Cif brand into new territory with an eco refill range, which allows consumers to re-use their trigger spray cleaning bottles.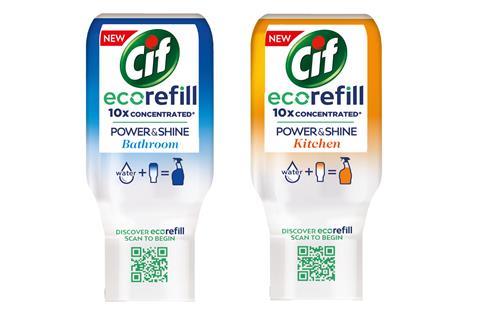 Rolling out now, Cif eco refill is designed to help consumers make more sustainable choices when buying cleaning products and taps into growing demand for brands that use less packaging.
Made with 75% less plastic than a bottle of Cif power & shine, the eco refill range (rrp £2.50 / 70ml) attaches to the brand's power & shine spray bottles (rrp £3.00 / 700ml). It can then be mixed with water to create a cleaning solution for the bathroom or kitchen.
Featuring a 10x concentrated formula and packaged in a recyclable bottle, the range reflects Unilever's Sustainable Living Plan commitment to making all of its plastic packaging fully reusable, recyclable or compostable by 2025.
Gemma Cleland, vice president for home care at Unilever UK & Ireland, commented: "This launch marks a step-change in our approach to plastic within the home care category. Put simply, Cif eco refill provides consumers with a product that has less impact on the environment whilst still giving them the great cleaning power they expect from Cif. This technology looks set to revolutionise the cleaning category for good.
"We know that UK consumers are more conscious than ever of the effects their actions can have on the world around them and are on the lookout for easy ways to make a positive impact on the environment – and there's no better place to start than in the home. This insight has helped us to develop this no-mess, at-home refill technology. By keeping a bottle of Cif and refilling and reusing it over and over again, consumers can significantly reduce their consumption of single use plastic."