Energy drink brand Carabao has added a Mixed Berry flavour to its range of fruit-flavoured low-calorie energy drinks.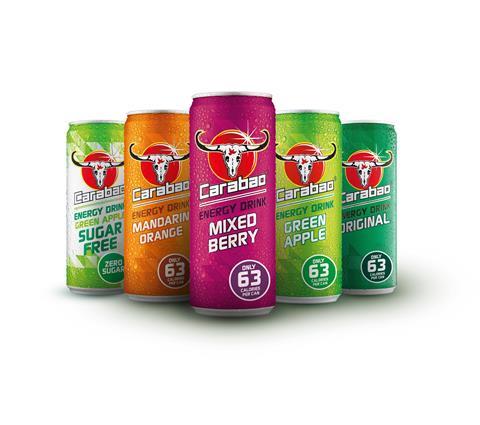 The new flavour has scored highly in taste testing and is seen as providing a new opportunity for retailers as berry flavours are popular in the soft drinks category but so far are under-represented in the energy drinks sector. Mixed Berry flavour launches initially in Asda but will roll out to the rest of the trade from March 23 with an rrp of £1.19 per 330ml can.
The Carabao portfolio is designed to combine the traditional fruit flavours of soft drinks, while offering all the benefits of a caffeinated energy drink. At only 63 calories per can, the sugar content is also lower than many other products on the market.
David Butcher, md of Intercarabao UK&I comments: "The launch of our Mixed Berry flavour is a stand out moment in our mission to create energy drinks that rival the much-loved taste of traditional soft drinks. We're excited to see how this new product fulfils Carabao's ambition to grow further within the UK energy drinks market."
Carabao is an official global partner of Chelsea FC and is currently in the third year of its partnership with the English Football League, which includes the title sponsorship of the Carabao Cup. Carabao Mixed Berry will be officially launched on Sunday March 1 as Aston Villa take on Manchester City in the Carabao Cup final at Wembley Stadium. The product will be available to purchase at refreshment kiosks on matchday and LED digital advertising will be present pitchside throughout the game.