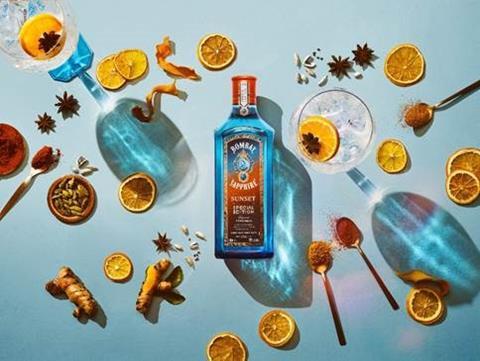 Bombay Sapphire has unveiled Bombay Sapphire Sunset.
The new variant combines the signature flavour of the ten existing Bombay Sapphire botanicals with an additional three – golden turmeric, Indian white cardamom, and Spanish mandarin. Bombay Sapphire Sunset has an ABV of 43% and an rrp of £23.
This is the second gin in the brand's series of Special Editions, following the launch of Bombay Sapphire English Estate in 2019.
Drawing inspiration from creative places across the globe BOMBAY SAPPHIRE Master of Botanicals, Ivano Tonutti hand selects each botanical for each new gin that is expertly crafted. The Special Editions demonstrate the ingenuity and versatility of BOMBAY SAPPHIRE and inspires fans to elevate their classic cocktails, whilst also experimenting with innovative and creative new drinks.
Bombay Sapphire master of botanicals Ivano Tonutti said: "I have worked closely with our master distiller Dr. Anne Brock to create a subtle combination of warming spices and citrus notes that truly enhance the complex flavour profile of Bombay Sapphire gin, providing a lingering warmth and refreshing taste."