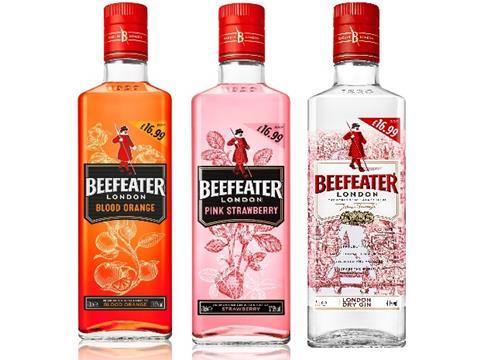 Beefeater is to launch a new £16.99 price-marked pack (PMP) across its original London Dry variant and its flavours range, Beefeater Pink Strawberry and Beefeater Blood Orange.
The new Beefeater PMPs will roll-out across the convenience channel, including major wholesalers, from November 2020. The new packs join the company's recent launch of a £7.99 PMP on its Campo Viejo Rioja Tempranillo, which is available in major wholesalers now.
According to Nielsen, gin is growing +33% in volume versus last year in the convenience channel, and within this, flavoured gin is the fastest growing spirits category (+77% in volume versus last year). Nielsen also reported that PMPs are a key driver of sales in the convenience sector, with 82% of shoppers looking to purchase them as a part of the weekly shop while 83% of retailers also claim PMPs sell faster in their stores than the equivalent plain packs.
Off-Trade channel director at Pernod Ricard UK Chris Shead said: "Gin is now the second largest category in the Off-Trade and the number one growth driver by value. Another way of visualising the size of this category is that every £1 in £5 spent on spirits is on Gin, and therefore it's crucial convenience retailers get their fair share of the category. Gin is still very much the drink of choice and we're delighted to be launching a PMP for Beefeater at a time when we are seeing significant changes in consumer behaviour. Since lockdown began, more consumers are shopping local, turning to trusted brands, and treating themselves to affordable luxuries."