Bam Organic has extended its range of all-natural ready-to-drink protein shakes with the introduction of a chocolate variant.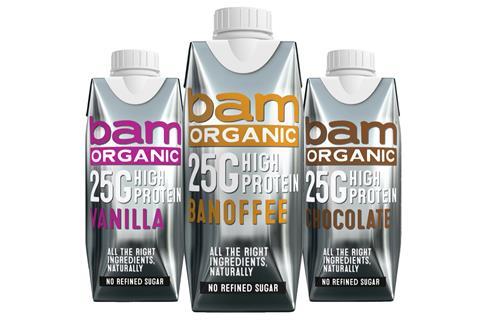 Originally set to launch earlier this year, the organic shake joins Bam's existing range of vanilla and banoffee drinks and features a mix of sustainable and ethical ingredients.
Certified by Informed Sport - one of the world's leading quality assurance programmes for sports nutrition - the shake contains 25g of protein and less than 1g of fat per 330ml serving (rrp £2.50).
Made without artificial colours, flavours or preservatives, the gluten-free and vegetarian product also comes in 100% recyclable and re-sealable cartons.
Bam co-founder Graham Dodridge, said: "A chocolate flavour, high protein shake was a natural progression for us and customer feedback has been extremely positive. Made with organic British skimmed milk and milk protein, simply blended with honey rather than refined sugar, and reduced fat cocoa powder, we are confident it will be well received in the market with high demand.
"Our range is the ideal ready-to-drink post workout recovery drink, or grab and go refuel, meeting increased demand for high protein products without artificial ingredients which are potentially harmful towards health. Chocolate will always be a favourite, so we are excited to bring our guilt-free new flavour to consumers. We are here to 'fight the fake' and challenge the norm in the protein market."