7UP is bringing back its brand mascot Fido Dido for the roll-out of new special edition packs for its sugar-free lemon and lime drink.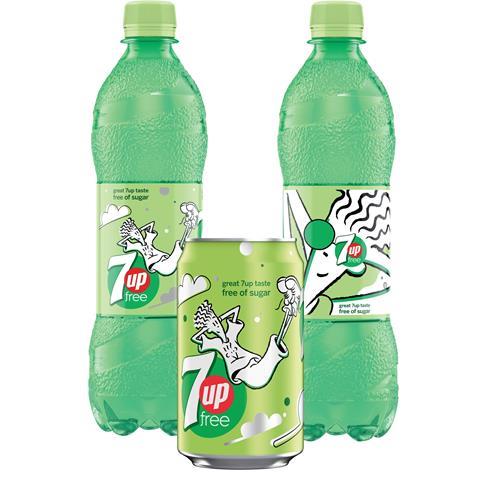 Available from this month for a limited time, Fido Dido packaging will appear across all formats of 7UP Free (see below). The activity is designed to introduce the 'King of Cool' character to a new generation of shoppers, bringing them into the category as part of the brand's Feels Good to Be Free campaign.
Rachel Phillips, out-of-home commercial director at Britvic, commented: "The 7UP Free limited edition cans will be available as part of our hugely successful 2 for £1 PMP deal within the impulse channel, providing retailers with an additional sales opportunity.
"The launch of the limited edition packs also ties in perfectly with the brand's 90th anniversary celebrations that get under way this month. 7UP – and in particular Fido Dido as a character – embodies a feeling of being free to be yourself and we are investing heavily in the campaign to raise awareness amongst shoppers."
Phillips added: "The launch will be supported with its biggest integrated marketing campaign in the UK to date, including TV launching in June and running for six weeks to support the limited edition packs. 7UP and Fido Dido will be front of mind for shoppers across the summer, a key period for retailers' soft drink sales."
The 7UP Free limited edition Fido Dido packs will be available to c-stores until October and, in addition to the TV campaign, will be supported by outdoor, video-on-demand, digital, PR, sampling and experiential activations throughout the summer.
7UP Price List
Multipack of eight cans: rrp £4.39
Mulipack of six cans: rrp £3.49
2ltr bottle: rrp £2.29
1.5ltr bottle: rrp £1.89
600ml bottle: rrp £1.39
500ml bottle: rpp £1.39
375ml bottle: rrp 89p
250ml slimcan: rrp 55p