Learn how shoppers are getting their snack back on in c-stores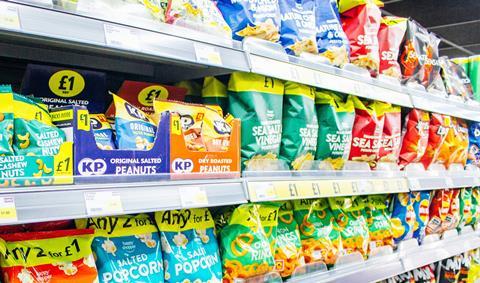 1. Crisps, snacks and popcorn sales in convenience are now soaring above pre-pandemic levels
When it comes to the crunch, the Great British public still love their salty snacks. And despite a pandemic dip, sales are now back stronger than ever for 2022.
"The total crisps, snacks and popcorn category in the convenience market has recovered to above its pre-pandemic level on value sales, with the latest 52 weeks up by three percent compared to two years ago [IRI]," explains Michael Owens, head of impulse at Valeo Snackfoods.
"This growth has come through three different areas: growth through formats (sharing packs are up 14% and single serve is up 9%); an increase in average price per unit; and a boom in sales within healthier crisps and snacking – up 21% [IRI]."
Golden Wonder has seen the success of both sharing and single formats reflected in its sales, recording 17% value growth in convenience for its single serve Fun Snacks range, which includes Tangy Toms and Spicy Bikers, in the 12 weeks to 15/1/22 (IRI), while its £1 PMP snacks grew a whopping 26% (ibid). "Sharing snacks are driving the market as we continue to enjoy a snack in front of Netflix or have friends round," says Matt Smith, marketing director for Tayto Group.
Nat Cooper, senior trade lead at Simply Roasted expects the success of sharing formats to continue. "As we head into summer, share bags should continue a positive growth with an increased spend per customer," she says. "From recent field sales activities, it's clear that consumers are still seeking take-home products from local stores, with the convenience channel still proactively seeking share bag formats versus impulse."
Enya McAteer, store manager at Mulkerns Spar Jonesborough, Newry, claims that sharing bags are now a best-seller at her c-store.
"They're now very popular here just because people see them as a value-for-money choice. Don't get me wrong, the single bags go well with builders coming in for their lunch, but families tend to go for the sharing bags. Crisps are always very popular anyway – and we often have to restock the fixture around three times a day.
"We always have them in the busiest part of the shop, right near the tills, which works really well for us."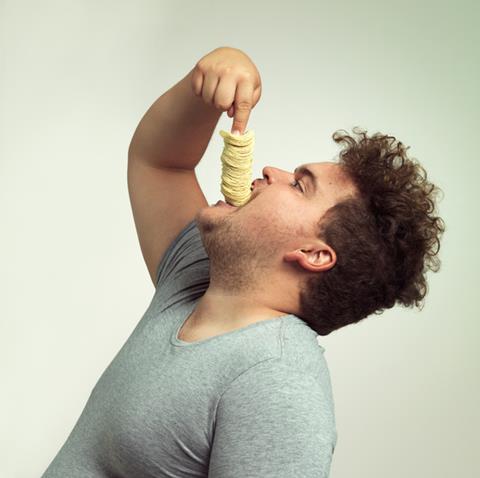 2. CSN shoppers are spending an extra £100 in the category
Luckily for retailers, snacks and c-stores go together like cheese and onion.
So with more shoppers likely to be coming through your door, the sales potential is huge this summer. "Over the past two years, a new wave of convenience store shoppers has brought a raft of extra money to the sector," says Laura Trivulzio, marketing director at Peperami and Jack Link's. "It is more important than ever for shop owners to stock a variety of tasty and healthy savoury snacks, appealing to a wide demographic of consumers."
"With one in five baskets containing a bagged snack [Lumina], CSN represents an important opportunity for retailers to grow sales and footfall," adds Matt Collins, trading director at KP Snacks.
Collins points out that Crisps, Snacks & Nuts (CSN) shoppers are spending an extra £100 in the category – +14% YOY [Kantar]
"Our snacks are consumed by over 20m households and our diverse portfolio has delivered 44% of the category's growth in the last five years [Nielsen].
ADVERTISEMENT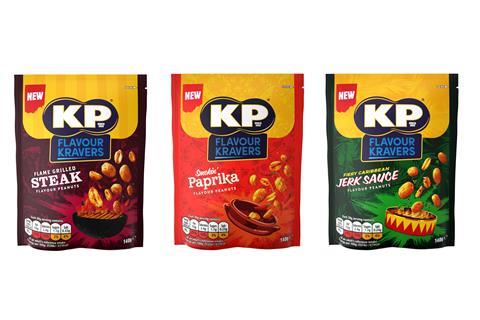 KP Flavour Kravers


KP Flavour Kravers are a brand new flavour platform within the KP peanut range. Available in three delicious flavours: Flame Grilled Steak, Smokin' Paprika, and Fiery Caribbean Jerk Sauce, Flavour Kravers really pack a punch with big, bold flavours.
With consumers seeking out delicious and exciting flavours, these new products are perfect for evening sharing, the largest occasion within both nuts and sharing.
Launched this year in 140g sharing packs with an RRP of £2.50, Flavour Kravers is rolling out in all major retailers.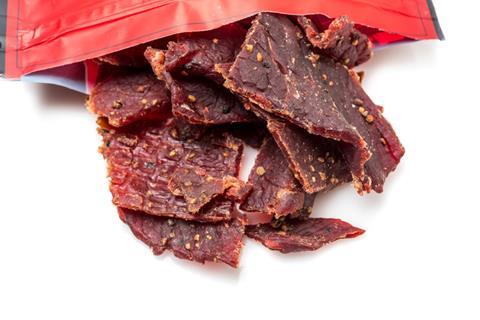 3. The meat snacks category has grown 33% in two years
Whether you credit that consumers are plumping for more protein, or choosing taste innovation, there's evidence meat snacks are on the move.
"As a result of the convenience, taste and quality credentials, we have seen the meat snacking category grow +33% versus two years ago [Nielsen]," says Trivulzio.
"This has been driven by nearly one in three households purchasing a meat snack each year [Nielsen]. Meat snacking was in fact one of the fastest growing categories in total food and beverage in 2021, ahead of confectionery, bagged crisps, soft drinks and ice cream."
Some of this growth is down to brands focusing on health. For example, Peperami Chicken Bites is a move away from red meat with a low calorie count of 103 calories per 50g bag, while Jack Link's offers low-calorie, higher protein, 100% lean beef snacking options.
Although the data shows that meat snacks are becoming more popular, there is still headroom to recruit additional shoppers to the category.
"An increasing number of consumers are now looking to get more from their snacks, and are actively seeking products that can offer functional and nutritional benefits. This growing desire has led to more consumers demanding high-protein, better-for-you products," says Laura.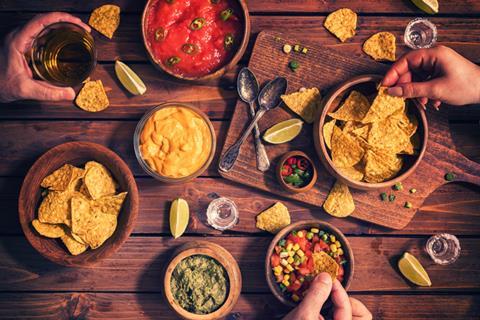 4. Adults are up for trying bolder flavours

You don't mess with the classics. So it makes sense to offer the core red, green and blue flavours that consumers come back to time and time again. Yet, red-blooded adult-only households will sometimes want to experiment.
"Bolder flavours tend to appeal to adult only households like pre-family, older dependents and empty nesters, where there is less focus on trying to get something everyone in the family will like," says Owens.
"Shoppers often tend to stick to familiar, much-loved flavours so unsurprisingly the core flavours driving growth are cheese, vinegar and salt. However, some shoppers still want to be excited and successful brands have taken this and been more prescriptive, stating the provenance, or naming the specific types of food ingredients."
Kettle caters to these consumers by getting bouji with its Parmigiano Reggiano & Balsamic Vinegar of Moderna Sourdough Bites.
KP is also shaking things up with its new Flavour Kravers range. Available in Flame Grilled Steak, Smokin' Paprika, and Fiery Caribbean Jerk Sauce, the line is aimed to inspire a younger demographic "over-indexing in bold flavours."
Simply Roasted has picked up on the demand too. "Whilst the classic flavour profiles continue to dominate, 'spicy' SKU's have become the fastest growing flavour trend, with millennials and young shoppers wanting to experience heat intensity and something different," says Cooper. "Meaty SKUs are another area expected to gain momentum during the summer months with a focus on bold, BBQ-style flavours that tap into the growing consumer interest in dried, meat jerky flavour profiles. At Simply Roasted, we are already working on NPD that taps into the increased demand for both meaty & spicy flavours."
Golden Wonder is heating up the snacks category too with Spicy Thai Ringos, and has also brought back nostalgic Beef & Onion and Chip Shop Curry flavours as part of its 75th birthday celebrations.
Enya sees the benefits of playing it safe with flavours in-store – while offering the occasional curve ball. "With crisps there are just so many flavours to choose from and we just haven't got enough room," she says. "It's great to offer new flavours. But once people have tried them once they'll often return to the core range again."
ADVERTISEMENT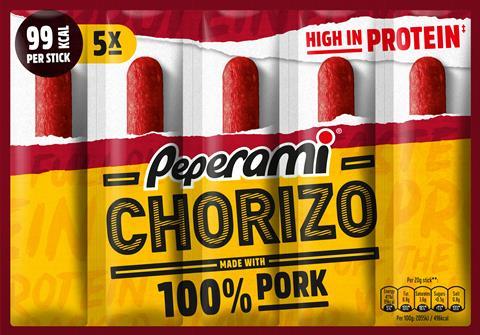 Peperami launches Chorizo 5 packs made with 100% pork
Peperami, the UK's leading meat snacking brand - has announced a new product innovation, Chorizo 5 packs (RRP: £2.30), to add to its rapidly growing portfolio.
The launch aims to recruit more adults into the meat snacking category, offering a unique and sophisticated blend of flavours and spices, including paprika, garlic and onion.
The 5 packs are available now, while the brand is also developing a Chorizo single stick format which will be rolling out at a later date.
The consumer taste-tested Chorizo variety is made with 100% pork, packed with protein, and is unpasteurised to maintain its fuller flavour, providing a shelf life of over 6 months.
With just 99 calories per portion, the product is the ideal, nutritionally beneficial choice for consumers to incorporate into their lunchtime and afternoon snacking regime.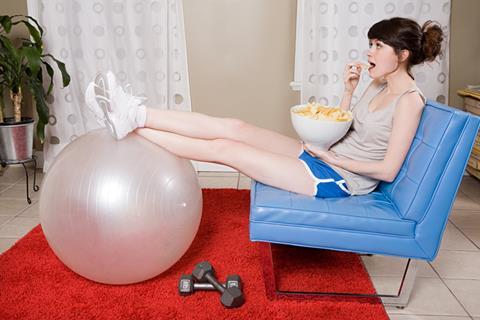 5. Healthier snacking is up 21% (IRI)
For a while now the ongoing health trend has meant an onus on less (especially salt, fat and sugar). However, brands like Chika are showing that, with some ingredient innovation, there's potential to offer 'more' too.
"Post pandemic, we're continuing to see a long-term trend towards healthier snacking," says Scott Cooper, managing director at Chika's Snacks. "We've seen 25% growth in our nuts and rice crisp ranges year-on-year, and this will be further accelerated by HFSS regulations from October.
"Ingredients innovation is key. As a brand, we use ingredients such as wholegrain rice, red lentils, plantain, and almonds, which are naturally nutritious and wholesome. Our nuts are packed full of plant protein, and our new HFSS compliant rice and lentil crisps (launching in July) are made with protein rich red lentils and wholegrain rice."
Golden Wonder has also ticked the HFSS compliance box with its Ringos Puffs, which are baked rather than fried. "Healthier snacks have a real credibility challenge, as many consumers don't believe that they will taste as good," says Tayto Group's Smith. "Consumers expect snacks to be 'worth the calories'."
Enya says that Popchips is a brand that does well in-store when shoppers want to choose something healthier. "I think because they're not fried people see them as a healthier choice when they're going for snacks," she says.
Meanwhile, Richard Inglis, from Parkview Retail, says that, despite the HFSS frenzy, he doesn't think that crisps will be off the c-store agenda any time soon.
"People want what they want, not what the government would rather they brought," he says. "So yes, healthy choices are important. But I think that when people come in-store they're going to be looking for their favourites too – no matter how much fat or salt is in them."
Smith agrees that many consumers will continue to seek out their favourites, regardless of their nutritional profile. "While we all worry about HFSS, let's remember why consumers love snacks – they are tasty treats!"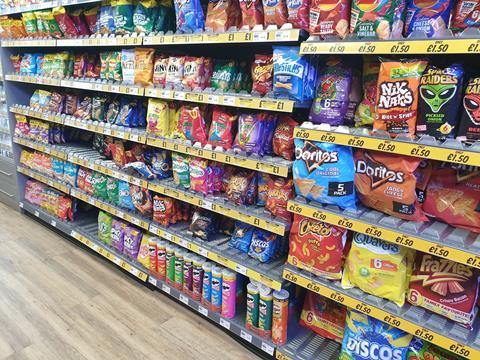 6. Inflation has been rising faster on crisps and savoury snacks than total FMCG (Kantar)
PMPs have always been key to the snack category. And in 2022 they're likely to be in demand like never before.
"We recognise the huge role PMPs play in driving growth in the convenience channel," says Scott Snell, vice president of customer at Pladis UK & Ireland. "Plus, with Brits feeling the strain of rising costs, price is top of shoppers' hit list when it comes to purchase motivators – and this will become even more pronounced throughout the year ahead." Pladis has expanded its £1 PMP range with Jacob's Mini Cheddars Sticks Grilled Cheddar & Sizzling Steak.
Value is a top priority for consumers, claims Tayto Group's Smith. "Consumers are deeply concerned about rising living costs. In savoury snacks, over 85% are planning to change their shopping habits with buying on promotion (33%), buying less often (26%) and switching to cheaper brands (25%) being top of their list [Norstat].
"PMPs continue to be an excellent way for convenience retailers to assure shoppers that they are getting great value compared to larger stores. Shoppers in convenience are concerned that they will pay inflated prices for shopping locally and PMPs assure them that this isn't the case. An additional benefit is that it makes it quicker for shoppers on a 'grab and go' mission as they don't have to search for a shelf ticket - the price is right there on the pack." The firm claims its recently launched £1 PMP premium range featuring Mature Cheddar & Spring Onion; Chargrilled Steak; and Crispy Smoked Bacon flavours, are delivering over double the sales of the previous flavours.
Also, to meet this value trend, PepsiCo grew its Wotsits range with the launch of £1 PMP Wotsits Crunchy.
Katherine Cook, Walker's snacks marketing manager at PepsiCo, says: "Offering a variety of snack options has always been important to the Wotsits brand, and we know consumers are incredibly keen to experience new textures and flavours. This is exactly why we have introduced the new Wotsits Crunchy – to meet those shoppers' needs."
However, the future of CSN isn't just about providing value. Owens says that inspiring consumers through the category is going to be all-important to ensure it doesn't go stale.
"The average price per unit for the total crisps, snacks and popcorn category in the convenience market has increased by 9% over the past two years and so far, this hasn't negatively impacted the category," he says.
"[However] inflation has been rising faster on crisps and savoury snacks of late than total Fast Moving Consumer Goods (FMCG) [Kantar], and studies suggest this could continue to increase. Meaning, it's now more important than ever to have new products within this category, to excite and engage shoppers."