As consumers don witches' hats, vampire fangs, and monster masks, retailers who target Halloween will have plenty to celebrate.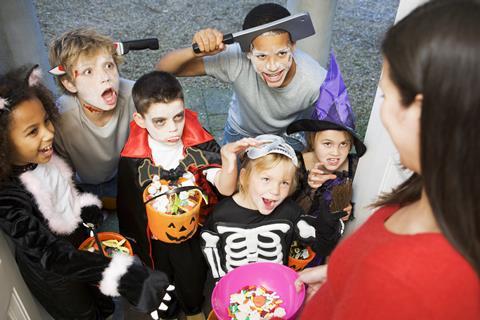 It might be a celebration of the dead, but Halloween sales are very much alive. "It's gone from strength to strength," says Anita Nye, manager of Premier Eldred Drive in Kent. "100% it's getting bigger – for me personally, it's bigger than Easter both in terms of what people are planning and with sales."
Aman Uppal, owner of One Stop Mount Nod, Coventry, says: "We've seen Halloween grow year on year over the past three or four years. As a whole, the country is getting more behind it and there's Halloween NPD every year, which helps. In the run-up to Halloween our confectionery sales grow about 20%."
Halloween is the second biggest season for candy after Christmas, so it is crucial for retailers to take full advantage, according to Mondelez International. Trade communications manager Susan Nash says: "The opportunity for retailers at Halloween is big and growing, and over the past two years candy has been the biggest driver of sales growth during the spookiest of seasons."
Mark Walker, sales director at Swizzels, says: "Halloween is the biggest calendar event for sugar confectionery and Swizzels sees its share of sugar confectionery double at Halloween compared with the rest of year. Sugar confectionery was worth £36.4m in the convenience channel for the five weeks of Halloween in 2018, up 3% on 2017 (IRI five-week convenience data to 4 November 2018)."
Haribo agrees the season continues to grow. "Each year we are seeing more and more people participating in Halloween," says trade marketing manager Claire James. "In fact, in 2018 more than half of UK consumers splashed out on the occasion. So, if a household isn't preparing to go out trick or treating or to host a party, they are likely planning to cater for those that come knocking at their door!
"This creates a great opportunity for retailers, especially those that get their Halloween confectionery range right by offering variety, volume and value from recognised brands."
She advises retailers to capitalise on this key shopper occasion by ensuring their range is fit for purpose and relevant to key trends within the market. "According to seasonal research, value for money remained the top driver of retailer choice at Halloween last year (IRI Marketplace Halloween viewpoint four weeks data to 4 November 2018)," she says.
This was echoed by seasonal shopper research that was commissioned by Haribo during Halloween 2018. Here, shoppers revealed that they looked for strong performing brands, especially those that offered good value for money.
This is undoubtedly the case for Anita. "Whenever we can, we get pricemarked stuff as people are cash conscious – they want to spend [at Halloween], but they want their money's worth," she says.
Value is also important to customers at One Stop Mount Nod. "We do very well with pound lines at Halloween, sharing bags of chocolates and sweets in multipack bags at an easy price point," says Aman.
Haribo's research also found interest in products that were season-neutral but fit for purpose treats. "Whilst catering for trick or treating was crucial, products did not need to be themed," says James.
With this in mind, the firm is combining its two confectionery brands for the first time to create the year-round Haribo & Maoam Duo pack. The big value sharing bag (rrp £4) comprises mini bags of individually wrapped gums, jellies and fruity chews.
"We know that individually wrapped is important because this format delivers from a safety, hygiene and convenience perspective," says James.
The firm also recommends its Tangfastics and Starmix Minis and Super Party packs, as well as Maoam's Strips Joystixx and MaoMixx. "Available all year round, these treats support the occasion and those retailers who do not want to risk being left with themed stock after the event," she adds.
Perfetti Van Melle (PVM) agrees that non-themed packs allow retailers to embrace the season without the risk of waste. "With their extended shelf life, they [all year round lines] reassure any retailers who might be concerned about space and are able to remain on-shelf when the season ends," says Mark Roberts, trade marketing manager.
"Our Chupa Chups Sour Infernals range of scarily sour lollies, jellies, gum and chews is one such all-year-round line, which can reduce the risk of overstock. Sour products are a £42m market and growing 21% MAT – we expect these extremely sour lemon, cola, apple & strawberry flavoured products to be incredibly popular at Halloween, especially for trick or treat."
Roberts emphasises that sharing bags will continue to grow in the run up to Halloween, not only with consumers who are getting stuck into trick or treat, but for parties too. "Convenience stores should ensure they're maximising basket spend by offering shoppers the opportunity to trade up to bigger pack sizes and this year we've introduced new Fruittella Favourites XL bag [rrp £3] to meet this consumer need," he says.
Swizzels claims its variety bags, featuring brands such as Drumsticks, Love Hearts, Double Lollies and Refreshers, are the best-selling sugar variety bags at Halloween (IRI: five weeks value to 4 November 2018). "The non-seasonal packaging will ensure retailers can continue to sell any surplus stock long after Halloween has finished," says Walker.
The Swizzels and Haribo brands are big business for Premier Eldred Drive in Kent. "Sweet-wise you get a lot of sales two or three days before Halloween," says Anita. "Multipack bags of sweets – Swizzels Loadsa Lollies, Loadsa Sweets and multipacks of Haribo – anything people can buy to give out to kids sells well. Swizzels Party Mix Tub, which sells for about £4.50/£5, is our bestselling line.
"We've ordered a case of 50 little Haribo and other multipacks," she says. "With tubs, we ordered 10 cases last year and we sold out so this year we're ordering 20."
Whilst all year-round treats are a popular choice, Haribo's research revealed that novelty is still welcomed. "In our research 61% of shoppers look for themed products and packaging to add fun and theatre to Halloween celebrations," says James.
Haribo's Trick or Treat multipacks, Scaremix and TangfasTricks will all return in 2019.
Swizzels' Trick or Sweet 210g bag is the firm's highest ROS Halloween bag sku in the convenience sector, delivering up to £30 per store per week across the five weeks of Halloween, according to Walker. "The Halloween themed packaging makes for a great eye-catching treat to hand out at parties and to trick or treaters. It will also grab the attention of shoppers as they browse."
Halloween-themed Swizzels lollies and Haribo are both strong for Spar Woodbridge in Suffolk, according to assistant manager Susan Latimer, who says they tend to go well.
Aman also likes to stock up on Cadbury and Haribo Halloween-themed lines. "We're doing a lot of sharing tubs with individually wrapped products," he says. "Someone can keep that by the door for Halloween and they're easy to distribute. Last year we sold out early on sharing tubs so I've increased the order on them."
While many retailers rave about Halloween sales, David Charman, owner of Spar Parkfoot in West Malling, Kent, is somewhat jaded. "We used to do fantastically well with seasonal events, but so many stores are now able to get involved and do it professionally," he says.
Mars aims for monster sales with fun-size NPD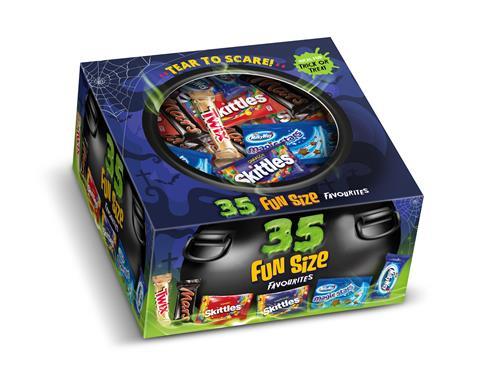 As the season becomes more populated, retailers can ensure they are boosting sales through new seasonal offerings and NPD, claims Mars Wrigley UK.
The firm claims that fun size is the most relevant format at Halloween, worth £30m, and chocolate fun size grew 8.7% year on year (Nielsen Scantrack six weeks w/e 3 November). "Mars Wrigley UK leads the fun size segment with our best-selling range, and with five of the top six fun size skus, we are well positioned to drive trade-up through our new Halloween offering – the Fun Size Favourites Variety Box," says Chloe Smith, celebrate brand manager, Mars Wrigley UK.
"Perfect for the Trick or Treat occasion, the Fun Size Favourites Variety Box provides retailers the opportunity to offer a product at a higher price-point with a higher piece-count and a mix of both chocolate and sugar confectionery – the only one in the market!"
The Fun Size Favourites Variety Box (rrp £4.99) taps into the requirement for variety and shareability to drive incremental sales this Halloween and is expected to generate £2.3m CSV. The new trade up offering will include Skittles Fruits, Skittles Darkside, Milky Way, Milky Way Magic Stars, Mars and Twix.
This Halloween also sees the return of successful limited-edition Skittles Sweet Heat – the perfect combination of fruity Skittles but with a spicy twist.
Alcohol
However, it's not all bad news. One category that still performs well over Halloween at Spar Parkfoot is alcohol. "Alcohol is something we've continued to grow in that area," he says. "We're selling more and more spirits every year – people know we're open and we'll have the products they want. Vodka is popular and flavoured variants of drinks do well – it's important to have what's on trend."
One Stop Mount Nod also witnesses a boost in booze sales. "For us, our Halloween sales are predominantly children, but we're seeing adults having house parties at the weekend and you'll see a little increase in alcohol sales," says Aman. "Brothers ciders are very edgy and have different flavours so they'll chime well with Halloween."
Brothers Drinks claims that its toffee apple cider is a big hit at Halloween, particularly with those aged 18 to 34. "With the demand for unique flavours continuing to grow, shoppers are looking for products with a point of differentiation," says Emmy Webster, senior marketing manager, Showerings Cider Mill, owned by Brothers Drinks Co Ltd. "Offering new, quirky flavours is key to driving adoption within this market and promoting these will help c-stores capitalise on the ever-growing impulse buyer, as they appeal to those looking for something different."
The younger generations' love of both Halloween and cider has also been picked up by Heineken UK. "Halloween is the second biggest drinking occasion, after New Year's Eve, which naturally presents a huge opportunity for stores to drive higher sales," observes Toby Lancaster, category and shopper marketing director. "With Halloween particularly popular among 18- to 25-year-olds, the cider category tends to receive a spike in sales as students opt for more refreshing and fruity tastes. For Halloween, fruit flavoured ciders, such as Strongbow dark fruit, are a must-stock due to their synonymous association with seasonal events."
Getting Halloween products on display early is key, notes Webster. "Despite not taking place until the 31st, the month of October has become synonymous with Halloween. Promoting themed products at the start of the month allows retailers to capitalise on those preparing for Halloween in advance. As the day draws closer, c-stores should decorate their store to match the occasion, while positioning relevant products towards the front of the store to capture consumers' attention and help drive sales."
Stocking products up to one month in advance supports planned purchases, states Haribo.
"Trick or treating goods and party treats also peak in the week running up to the occasion and on the day, so make sure your visibility of Halloween treats is good and secondary displays are in place if you hope to capture those impulse sales," says James.
"This year Halloween falls on a Thursday, so we expect to see parties and celebrations extend into the weekend. Getting stock levels and formats right is therefore crucial."
Brothers Cider makes an impact this Halloween

Brothers is working hard within the Halloween occasion this year, building on previous years with experiential activity and bespoke POS to engage the demands of the modern consumer.
Brothers Cider will be served at a range of Halloween parties and events across the UK this October including Westfest, the UK's biggest indoor electronic music festival held in Shepton Mallet, and LWE's Drumcode Halloween event held at the Tobacco Dock in London.
Brothers will also be working to promote Toffee Apple as the flavoured cider of choice this Halloween. "Available in a 4 x 330ml pack which is plastic free and fully recyclable, Brothers Toffee Apple 4% ABV cans are the perfect choice for Halloween parties," claims Emmy Webster, senior marketing manager, Showerings Cider Mill, owned by Brothers Drinks.
In-store theatre
Walker adds: "Shop owners can increase theatre and make displays more dramatic and eye-catching as the general excitement around Halloween begins to build. Stocking Halloween-themed products right up to the evening on Halloween itself is also key to maximising sales, as there will always be shoppers making last minute purchases and are more likely to run to their local convenience store than drive to their nearest superstore.''
Anita doesn't waste any time getting her Halloween goods on-shelf. "Once Back to School is done, we'll get Halloween out in the last couple of weeks of September," she says.
"We'll get a stall with buckets and brooms and facepaints, stick-on stars, false teeth etc. Some people do tend to pick bits up as they go along, especially if they have more than one kid so it doesn't cost so much."
She goes to town decorating the store. "The shop is mad – a lot of stuff is noisy – motion-activated ghouls on the ceiling, bones and body parts in the chiller. We've had a couple of kids scream, but no complaints," says Anita.
As Halloween draws closer, she also decorates the outside of the store. "I try to buy one or two things every year. I'm running out of space to store it!" she laughs. "We've got 6ft trees and a 7ft witch that speaks and tells spells. We have a coffin that shakes and a zombie crawling all over the floor. This year, I've got my eye on a motorbike with a skeleton on it that lifts up when the bike revs.
"We've always decorated the shop, but in recent years we've really gone for it and decorated the outside of the shop. Last year we actually arranged to do it on Halloween, rather than the weekend. It was manic, but brilliant."
On the night itself, the store rewards all the children who come to the store with some sweets. "Swizzels do an £18 party bucket. We bought two of those last year for the kids, but they ran out and we were taking bags of sweets off the shelf! We planned to run our event from four until seven, but we were still open at eight!"
Anita and her team love dressing up for the occasion. "I've been a zombie bride, Cousin It, and a witch," she says. "We've had other staff dress up as a headless horseman, Frankenstein, bloody butchers and Edward Scissorhands.
"We do it for the customers and the kids. They say they're coming every year to see what we've got. It's got to help in the long-term. We have people coming in and asking about it in August! A couple of new people came to see the store at Halloween and they are regular customers now."
Spar Woodbridge also goes out of its way to celebrate spooky season. "We have a lot of houses around us and a primary school down the road and we let them know what we're planning," says Susan. "We dress up every year and we usually get a face painter to come in on Halloween and kids come in after school to get their faces done and they get a little slushy too and then they go out trick or treating.
"We have lots of Halloween decorations up and we have a skull that kids can put their hand in and pick a treat out of. It's just nice to do something for the community. I think it helps with loyalty. We have a lot of regular customers anyway, so it's nice to give something back."
David states that the value of staff embracing the event cannot be underestimated. "These events are important to us, but there's more to be gained from dressing up than having lots of stock. As an independent retailer it's that bit that makes the difference – customers like it and we like it."
This notion is echoed by Aman. "Staff get behind it and put on a costume – a devil or dracula – and it goes down well with customers. All the kids come in dressed up and we give them sweets. We have three primary schools in the area, so a lot of them are out on the night.
"This year we might be doing a competition on best dressed and we'll work with a supplier to give away goodies. It will encourage people to come into the store and people will spend more too. It helps with our social media as well – people don't just want to see your products all the time. They want to see what you're doing in the local community. I like to get involved in-store – if we're having a laugh in-store our followers can see our personality shine through. As a uniform One Stop store, we have to try harder to stand out."
Whether it's a fangtastic selection of ghastly goodies for trick or treaters, or some on-trend alcohol for the grown ups, convenience stores need to ensure they have everything in place to make a killing during spooky season.
By getting into the spirit of the event with decorations and costumes, retailers can not only boost sales in October, but make a lasting impression on shoppers and encourage loyalty.
Light up sales of matches this Halloween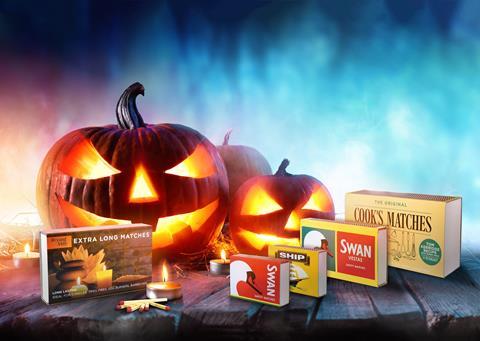 Roll your own accessories specialist Republic Technologies (UK) is urging retailers to spark sales of matches this autumn.
"With millions of people carving out pumpkins and placing candles inside for extra effect, matches are a must stock item and a vital household accessory," says general sales manager Gavin Anderson.
"This really is the optimum time to stock a range of matches, meeting different user occasions and needs. For example, Cook's matches are targeted at kitchen usage whereas Bryant and May Extra Long matches are ideally suited for lighting candles and fireworks."
The company claims consumer awareness of its best-selling matches is at a record high thanks to a relaunch of its Swan, Bryant & May, Cooks and Ship products. The move marks a focus on sustainability coupled with growing demand for eco-friendly matches.
"Retailers who increase visibility by moving or dual siting matches will capitalise most on the increased seasonal demand at this key time of year," says Anderson. "We're advising retailers to move matches out of the gantry to ensure matches are front of mind when consumers are buying related products such as candles or fireworks and can offer advice on the best locations to display matches."