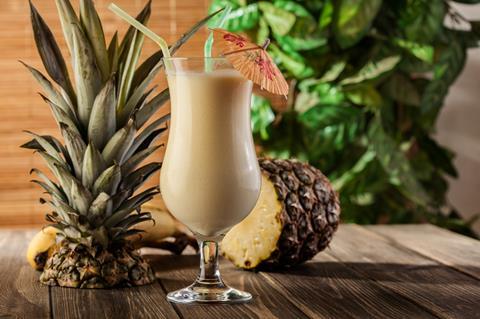 1. Over a fifth of consumers are planning to make cocktails at home this Christmas
More than one fifth of shoppers overall and 46% of 19-34-year-olds are planning to make cocktails at home this Christmas [AC Nielsen MAT to 05.09.20]. "Cancelled holidays and on-trade closures during lockdown encouraged consumers to find new drinking occasions to enjoy through virtual cocktail hours, experimenting with serves with a slight bias towards cocktails with fewer ingredients that were easier to make – and this trend is predicted to continue through to Christmas," says Pernod Ricard UK (PRUK) off-trade channel director Chris Shead. "As a result [of lockdown], the UK's favourite confinement cocktails differed from those they would typically be able to enjoy in the on-trade with the Piña Colada rising to number two, helping Malibu achieve double-digit value growth in the off-trade. Espresso Martinis have also been a favourite." PRUK will be running Christmas cocktail masterclasses from mid-November to mid-December, which will serve to educate over 15,000 consumers on how to make great cocktails over the festive period.
Bacardi is also expecting high demand for cocktails at home with its research showing over a quarter (29%) of consumers dusted off their cocktail glasses or used a shaker ahead of virtual get-togethers. "Our research found that people in the UK are looking to impress their guests by using quality spirits (41%) and by serving guests with showstopping cocktails, with almost one in five (18%), saying it's a must for their celebrations this year," added Charlotte Rann, director of impulse & route-to-market, UK & Ireland.
With people spending more time at home, there is an opportunity for the off-trade to provide experiences consumers can create themselves, states Diageo. "Gin is driving the biggest growth in spirits with flavoured variants making up 45.8% of total value share MAT [Nielsen Scantrack Data w/e 3.10.20], therefore, offering the right choice through range is important to driving sales this Christmas," says Hannah Dawson, head of category development off-trade. "Gordon's SKU's in particular currently occupy the top eight spots in the impulse channel [ibid]."
Flavoured gin keeps the tills ringing at London Road Bakery in Boston, Lincolnshire. "Last Christmas, our bestseller was flavoured gins, and I think it will be the same this year," says owner Jacqui Dales. "We do all the Gordon's and Beefeater flavours. The new Gordon's orange has been going particularly well. They do well because they're not too expensive, but a bit different."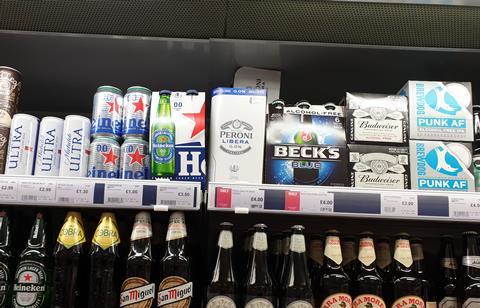 2. Half of consumers plan to drink more no and low alcohol this Christmas
"The 'mindful drinking' trend accelerated during lockdown as people experimented with low and no alternatives," says Bacardi's Rann. The firm's research found 50% of people intend to drink more low and no alcohol drinks this Christmas. Bacardi launched its Martini Non-Alcoholic earlier this year.
Budweiser Brewing Group UK&I, which launched Budweiser Zero and Stella Artois Alcohol-Free earlier in the year, claims that low and no beer and cider performed well last season. "In 2019, the no and low beer and cider segment saw strong double-digit volume growth [Nielsen Scantrack data; 52 WE 28 December 2019], with sales over the four weeks of Christmas growing +16.9% compared to the previous year [Nielsen Scantrack data; 4 WE 4 January 2020]," says convenience sales director Jess Markowski.
Heineken concurs that low and no is a major opportunity. "As one of the fastest growing segments in the market - currently in 96% growth [Nielsen Scantrack Impulse Coverage MAT Value Data to 08.08.2020] – the no and low lager category will play a key role over the festive period," says category and shopper marketing director Toby Lancaster. He claims that Heineken 0.0 is the fastest growing brand in the segment, with growth of 82% [ibid].
Accolade Wines has confidence in no and low. "Last year, we launched Hardy's 0.0% Chardonnay, which has delivered 11.3% YOY volume growth within the latest 12 weeks [Nielsen Scantrack Total Coverage GB to 13/06/2020]," says Norbert Jozsa, head of category and insight – Europe, at Accolade Wines.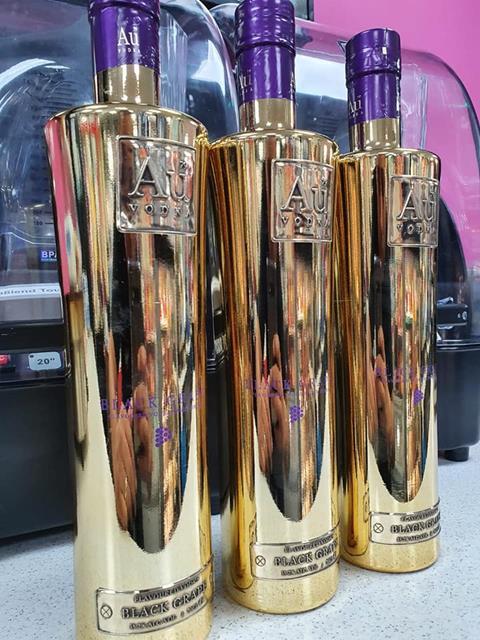 3. 70% of premium alcohol brands have experienced category growth during the pandemic
"While Christmas this year is set to look different to normal, we're still expecting shoppers to want to treat themselves to help make the occasion special," says Nick Williamson, marketing director at Campari UK, which produces Aperol and Campari. "During covid-19, 70% of premium alcohol brands have experienced category growth compared to last year [Kantar, FMCG Panel, 4we 6 September 2020], making them a must-stock this Christmas, as consumers look to make more indulgent purchases."
Mos Patel who owns two stores in Greater Manchester expects premium spirits to be in demand this Christmas. He notes that many of his customers are female and "they aren't grumpy about the prices, they're happy to pay for top-end spirits". He has high hopes for top-end brands including AU vodka, Grey Goose and Ciroc.
Premium spirits are doing well for Jacqui. "Whitley Neill is our top end line, which is priced at about £26, and sells well."
Bacardi research shows that 41% of people in the UK are looking to impress their guests by using quality spirits. "Stocking up on premium spirits that tap into seasonal trends is what retailer should focus on," says Rann.
ADVERTISEMENT
Say Ciao MALFY this Christmas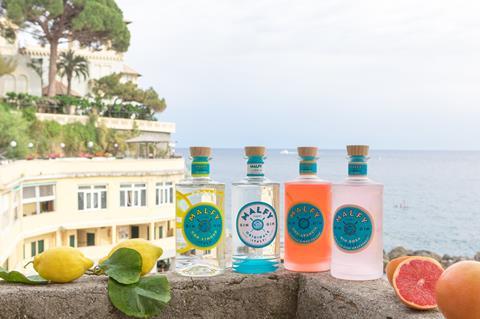 Nowhere encapsulates the spirit of Italy quite like the Amalfi Coast. In this stylish, sun-soaked enclave, life moves at a different pace. Inspired by this Amalfi lifestyle, MALFY Gin embodies its essence and invites you to live 'la Dolce Vita' as a true Italian.
Distilled at the Torino Distillati distillery in Northern Italy and using some of the finest botanicals including handpicked juniper, Italian lemons, pink grapefruits, oranges and blended with Italian water, MALFY is a truly unique gin.
Created from Italy's 'garden' and the abundance of magical ingredients it has to offer, MALFY is here to bring to life 'la dolce vita' and Italy's passion of sharing love, laughter and lasting moments this Christmas, and the brand is seeing outstanding performance in the Off-Trade, growing +73.8% in value[AC Nielsen | Total Off-Trade | MAT to 05.09.20].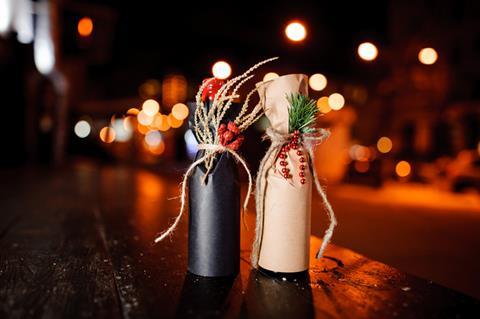 4. Nearly half of shoppers (48%) purchased alcohol as a gift last Christmas
"Our independent research has identified gifting as amongst the main reasons for spirit purchases at Christmas, with 48% of people buying alcohol as a gift last year," says PRUK's Shead. "Gin, vodka, Irish whiskey and wine have always been important categories for both hosting and gifting at Christmas, however, growth has accelerated in these sectors in 2020 and are the four key categories that have seen exponential growth during the lockdown period.
"Gin has been remarkably resilient during the Covid-19 crisis (off-trade) and has seen continued double-digit growth for the past 12 weeks, accelerating +38.4% vs. MAT +12.1%," he adds. "Beefeater is growing +99.5% in value and 96.5% in the off-trade; Plymouth is back in growth in the off-trade (+9.7% value sales) and during the lockdown period experienced double-digit value growth (+33.6%); while MALFY is up+21.5% in value."
Bacardi claims that one in five spirits purchases in convenience are made for someone else, adding that its Bombay Bramble gift box, Bacardi Spiced and Grey Goose 'La Collection' enable retailers to tap into that shopping occasion. However, Rann warns that visibility is key, highlighting that 47% of shoppers tend to forget they can purchase spirits in independent and convenience stores. "Making sure there's a stand-out, visible and well-stocked spirits range, where customers can easily browse the range, is really key," she says.
Christmas gifting is a big area for London Road Bakery. "We have great gifts from Whitley Neill, they are selling already" says Jacqui. "We have boxes with six crackers each containing a drink. They're £20 and can either work as a stand alone gift or split down into stocking fillers for grown ups." She encourages gifting sales by offering a wrapping service. "We giftwrap drinks with cellophane, it's that ease of gifting if it's all wrapped and ready."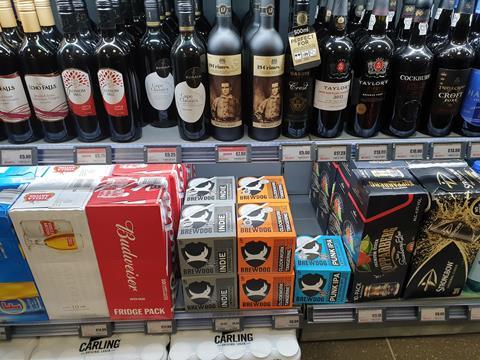 5. Mid-packs have grown to £400m in the impulse channel
"We recommended retailers stock a good range of small packs and large single bottles, as well as mid-packs, which are now worth £400m in the Impulse channel (Nielsen Impulse Channel MAT Data to 08.08.20)," says Heineken's Lancaster.
Last year, mid-packs saw impressive growth at Christmas. "In the weeks leading up to the festive season, mid-large packs see strong gains, with sales of bulk packs rising 4% and mid-sized formats by 10% [Nielsen Scantrack; Total Coverage; Beer & Cider; Volume; 52 WE 28 December 2019]," says Markowski.
Dawson says: "Recent data has demonstrated that bigger pack sizes are driving growth in the beer category, with value sales of 12 and 10 packs up by 13% and 9% over the last six months [Nielsen Scantrack, data to 08.08.20]".
Mid to larger multipacks are performing well concurs Molson Coors Beverage Company. "We expect take-home packs to remain popular over the festive period," says off-trade sales director Kevin Fawell.
"Larger multi-packs ensure shoppers can keep their home supply stocked up to enjoy across the festive period," says Calli O'Brien, brand controller at Aston Manor Cider.
Spar retailer Susan Connolly is stocking up on cases of 24 ahead of Christmas. "Stella, Budweiser and Fosters are the main three," she says. "As it comes to Christmas, people will be having parties with their families and alcohol will be in huge demand and I want to make sure we've got our top sellers and plenty of it."
Jacqui has a range of sizes across her beers and ciders. "We have a lot of Stella coming in on pre-order, it's our bestseller, we have 18s coming in near Xmas," she says. "Cider multipacks are an increasing trend. We've got smaller packs of Kopparberg and Rekorderlig, fours and sixes are doing really well."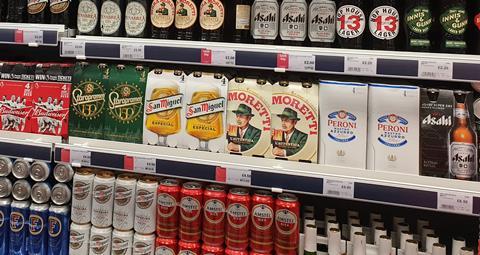 6. World beer saw double digit growth last Christmas
"In 2019, another clear winner throughout the festive period was world beer, with value up 14.2% in the lead up to Christmas [Nielsen Scantrack Total Coverage Beer Segments 12 WE 04.01.20],so retailers can expect a similar trend this year," says Markowski. "Corona is the number one world lager in the off-trade by value, growing by 46.1% in 2019 [Nielsen Scantrack 52 Weeks data to WE 28.12.19]." The firm claims that Corona brought in an additional 430,000 shoppers during the 2019 festive period compared to the previous year.
There's a growing market for more premium world lagers, agrees Fawell. "Continental-style pilsners are becoming increasingly popular, providing a more crisp and hoppy flavour than more traditional lager," he says. "Brands like Staropramen, which is in growth by 45% in impulse, can bring new options to retailers' lager range to give people a chance to experiment and explore new tastes this Christmas."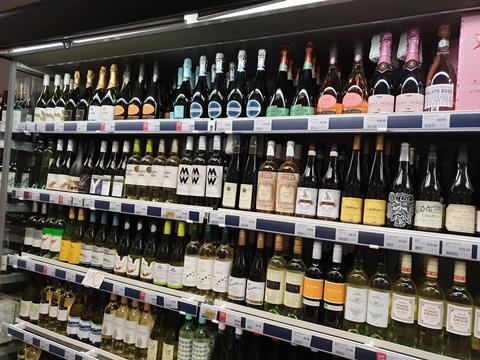 7. Over a quarter of wine's annual value sales were made last Christmas
Accolade Wines is expecting a "bumper Christmas" for wine sales as more people spend time relaxing indoors.
"The Christmas period is incredibly valuable to wine sales, approximately 27% of the year's value goes through the 12-week Christmas period, so it's a huge opportunity for retailers to make the most of," says Norbert Jozsa, head of category and Insight – Europe.
"We see 1.5x more wine sales and a 2.75x increase in fizz sales during Christmas compared to the rest of the year – as well as new customers entering the category. We also see shoppers pay a premium for quality wine at Christmas with average price per litre 4% higher than normal.
This Christmas, Hardys is offering a money back guarantee, while the firm's Jam Shed brand will bring back its mulled wine recipe neck tags.
Jacqui claims that Jam Shed has done "exceptionally well". She also expects Hardy's and Echo Falls to perform well over Christmas, as well as Spar's Fern Hills brand.
PRUK, which owns Campo Viejo and Brancott Estate, believes that wine is building momentum. "The off-trade has seen +12.5% value growth and +8.9% volume growth," says Shead. The company is also continuing to add value to the market through the average bottle price being over £1 above the market value (£7.23 vs £6.07) [AC Nielsen MAT to 13.06.20 and CGA MAT to 13.06.20].
Jacqui plans to get busy with the fizzy over the festive season. "Prosecco still goes really well. We do four or five different Proseccos and our bestseller is Spar brand. It's always on at a good price over Christmas."
Campari UK believes retailers should look to 'premiumise' prosecco this Christmas. "Last year, one in every four bottles of prosecco in the UK Off-Trade was sold during the eight-week run up to Christmas [Nielsen Scantrack FY 2019 Data to 28.12.2019], - and it is set to remain popular this year too," says Williamson. "However, with more than half of UK adults stating that Christmas is more important than ever this year [Kinetic Worldwide, October 2020], we expect to see shoppers looking for ways to elevate their usual festive purchases."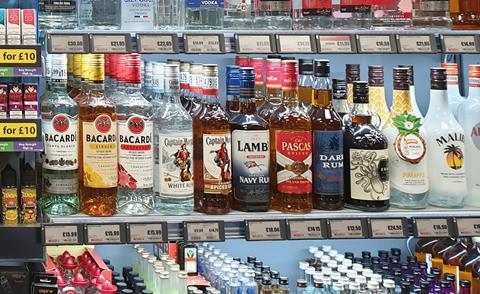 8. Rum displayed the strongest growth in spirits last Christmas
"Statistics show for the first time in several years that the growth over 2019' Christmas period was strongest in the rum category with 6% volume growth and 7% value growth over the festive period [The Wine and Spirit Trade Association], and it had a continued success throughout this year also as Rum became the 'lockdown drink' of 2020," says Continental Wine and Food Ltd (CWF) marketing executive Jessica Smith. "British consumers' willingness to explore new drink experiences helped the initial gin boom, and we are starting to see the rum category benefit from a similar impact as producers start to offer something interesting, exciting and fun." CWF has recently launched a range of flavoured Rum Liqueurs called Jolly Roger.
Halewood Wines & Spirits is taking full advantage of the new trend, having added four new variants to its Dead Man's Fingers range last July. "We know that rum drinkers are adventurous and keen to experiment with innovative new flavour profiles," says brand manager for dark spirits Sam Caulfield. "Lockdown has also seen consumers getting more experimental and willing to try new alcoholic drinks."
Rum is showing promise at London Road Bakery. "We're seeing a bit more of an increase in flavoured rums," says Jacqui. "The new Kopparberg rum has done well."