Award-winning retailer David Charman, owner of Spar Parkfoot in West Malling, Kent, has launched a click & collect service for his in-store butchery in time for Easter.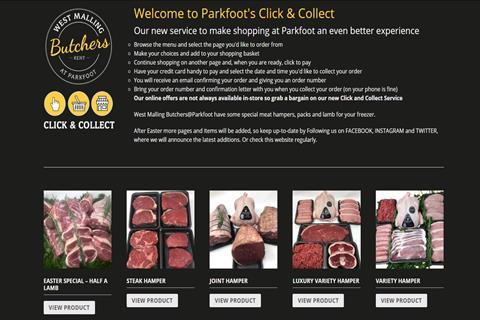 The service has been designed to allow shoppers to browse for products, pay for them via an online checkout, and pick items up at a date and time of their choosing.
David explained that the idea for the service evolved from the store's meat collection and ordering service, which operates every year in the run-up to Christmas.
He said: "The service has been a slow burner that we have built up and now extended this month to include the Easter season. Demand for butchery meat is a seasonal thing but very important for us.
"The idea is that we make it easier for customers to decide what products they want from home. At the moment, we have a variety of meat hampers and a special Easter lamb deal for people to choose from."
Promotions available through the Parkfoot click & collect service aren't always available in-store and David has plans to add more product categories to his online offer.
He added: "In the future, the plan is to try and roll out the service to other areas and move more aspects of the store online. The goal would be to offer a bigger selection of products throughout the whole year."